Rex
CR&S MisuraEmme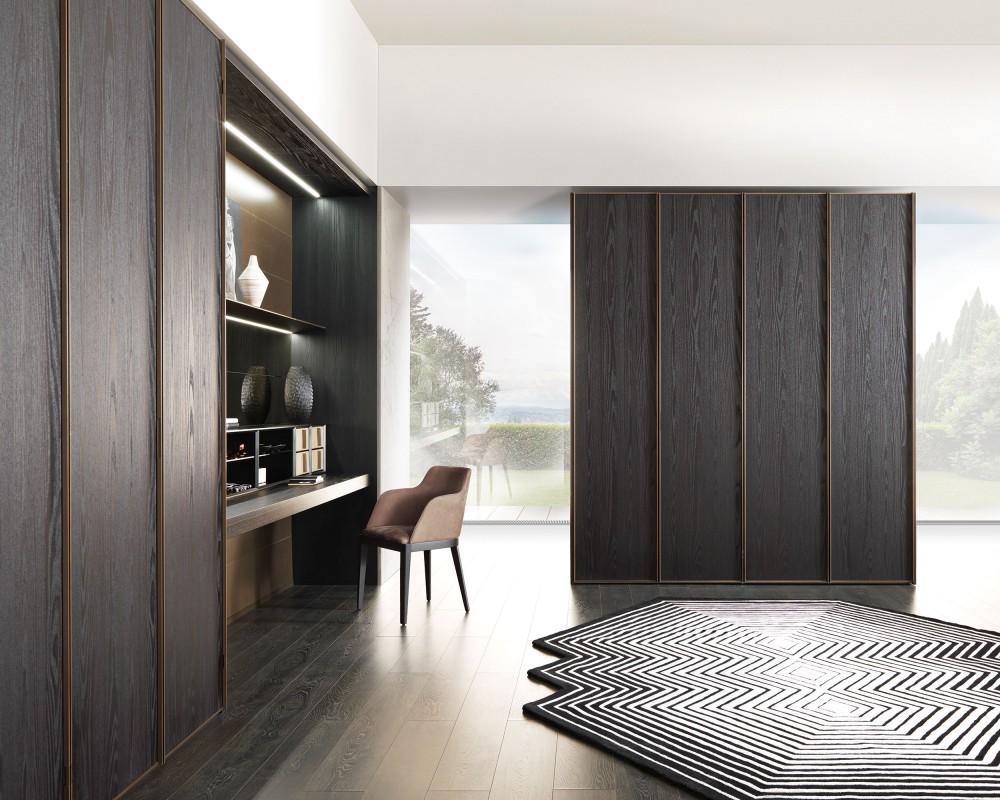 The hinged door evolves thanks to a dedicated piece that allows the opening angle of more than 180 degrees.
The refined metallic accents of the frame define and illuminate the bedroom, creating harmonious material contrasts in the versions combined with rovere nero, tabacco, and cenere essences.
Type
/ Wardrobes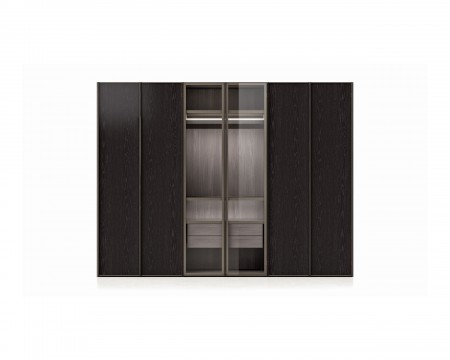 Designer
CR&S MisuraEmme
Care for details is a must for MisuraEmme R&D Center. This does not only show through the choice of first-class materials – from Carrara marble to solid oak wood, fabrics made in Italy to European leathers – but also customised processing and craftsmanship give added value to furnishing accessories. All this and more, make the products of MisuraEmme unique and exclusive, a result of a mixture between refinement and innovative technology.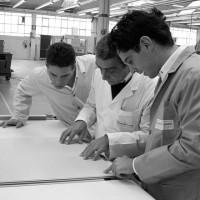 Door finishings
Varnished glass

01 Gesso

8B Caolino

9G Ostrica

6B Grigio Pietra

14 Nero

02 Talco

9F Sand

4G Argilla

8C Cappuccino

5B Grigio Lava

72 Sabbia

8A Beige

9T Toffee

93 Melange

13 Sepia

09 Wengè

98 Oliva

8S Giallo

9B Senape

94 Marsala

81 Fuoco

95 Ruggine

9H Petrolio

9E Deep Blu
Frosted varnished glass

X01 Gesso

X8B Caolino

X9G Ostrica

X6B Grigio Pietra

X14 Nero

X02 Talco

X9F Sand

X4G Argilla

X8C Cappuccino

X5B Grigio Lava

X72 Sabbia

X8A Beige

X9T Toffee

X93 Melange

X13 Sepia

X09 Wengè

X98 Oliva

X8S Giallo

X9B Senape

X94 Marsala

X81 Fuoco

X95 Ruggine

X9H Petrolio

X9E Deep Blu
Transparent glass

V00 Naturale

V05 Fumé

V01 Bronzo
Reflecting glass

V18 Naturale

V04 Fumé

V03 Bronzo
Double frosted glasses

SAT Naturale

VBF Fumé

VBZ Bronzo
Tempered mirrors

V21 Naturale

V22 Grey

V23 Bronzo
Melamine

866 Cenere

851 Black oak

853 Tobacco
841 Metallic Champagne

842 Metallic Dark Bronze

840 Metallic Graphite
Profile Finishings
Metals

531 Verniciato Dark Bronze

524 Varnished Gun metal