Crossing
Mauro Lipparini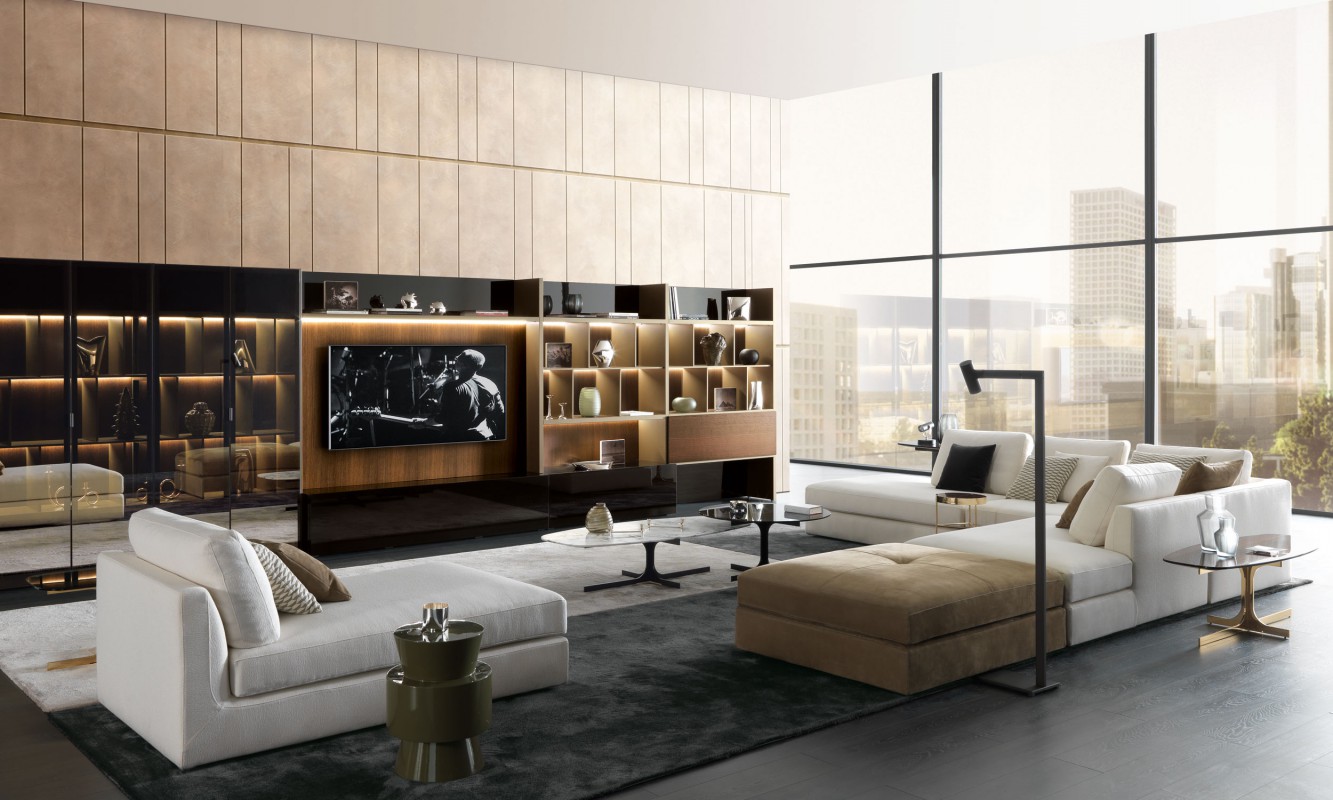 Crossing is a versatile modular system of panels with which to create wall-mounted shelving. Totally adjustable along the three dimensional axes, it can support up to 400 kg. The program offers a series of modules of different types and sizes, hanging cabinets with flap, leaf or sliding doors, and drawers in a range of sizes. Crossing is available in the Fusion version (with parts in faced or lacquered wood particle board) or in the Listellare version (veneered or laminated poplar blockboard). The compartments contain a special LED lighting system. Finishes: matte lacquer, glossy colours, natural wood, veneer/facing.
品类
/ Day系统
Technical description
Our Research Centre has found a material of high stability and undeniable lightness: three crossing layers of solid poplar wood in between two layers of MDF and veneered.
Sides – Bases – Shelves – Wall Shelves th.38mm.
Panel th.38mm. in poplar blockboard with three crossed layers and two surface layers of MDF panel th.38mm., wood veneer or lacquered finish.
Tops
Wood particle board th.19mm in melamine, lacquered finish or wood.
Raster insertion th.14mm.
Series of sides and shelves in MDF, th.14mm., shelves with back panels with or without lights, including aluminium profiled cover, with fasteners for the back and led compartment in satined finish or matt lacquer.
Back panels
Wood particleboard panels in class E1 th.14mm. matt lacquered or wood finish.
Wooden fronts
Melamine faced wood particleboard panel, th. 22mm lacquered finish or wood with horizontal grain.
Fronts profile "0"
Melamine panel th.19mm. with applied tempered glass th.4mm, eco-leather, tecnomarble,  wood panel.  Aluminium or Gun metal profile.
Hinged and flap door "Narcisse Day"
th.22mm., metal frame in gun metal finish, dedicated handle, tempered glass.
"Bar" flap door
Folding th.50mm., includes led light inserted in upper protruding shelf, with  eco-leather mat on the internal base shelf. Optional: mirror on back, n.2 compartment partitions with 1 glass shelf and n. 3 eco-leather mats on the internal base shelf, n.1 eco-leather mat inside the flap front panel.
"Teka" hinged doors
Box-shaped tempered glass th.6mm with visible hinges in brushed steel.
Panels to be inserted for external TV
Wood particleboard panel, class E1 th.25mm, in melamine facing, lacquered finish or wood.
Step-ladder
Tubular welded steel varnished metallic grey, steps in varnished tubular steel covered with non-slip plastic material. Fixture to the rails in plastic material.
Drawer interiors
Wood particleboard panels in class E1 Th.14mm, melamine faced. Drawer bottom: wood particleboard panels in class E1 Th.8mm.
All electrical systems are provided pre-wired in compliance with current laws.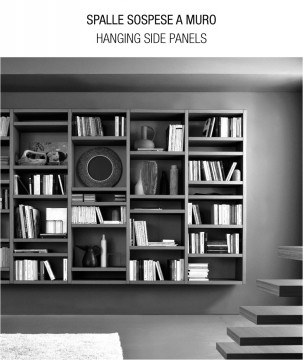 设计师
Mauro Lipparini
Mauro Lipparini在1980年毕业于佛罗伦萨大学建筑系,并在那里担任教授。1987年,他获得意大利米兰青年设计奖,1988年和1989年连续两年在德国国际竞赛中获得International Du Pont Awad Köln奖。Lipparini主要工作集中在工业设计这个领域,包括家具和办公家具和纺织品设计,客户遍及欧洲和日本。在建筑和室内的设计方面,在私人和公共住宅,展厅,零售购物中心和展览装置见著。除此他也提供企业形象设计服务。Lipparini的设计以清晰、有力的线条见称、并以利落的形式展现出自然极简风格(natural minimalism),带给使用者愉快及陶醉的感受。他通过对色彩、图案和视觉效果自由的组合,淋漓尽致发挥极简主义的创造性,展露了一种率性和力量的审美风格。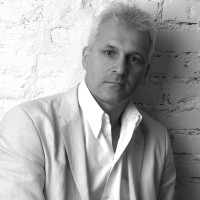 Side panel / Base / Shelf / Wall shelf Finishings
亚光和高光烤漆色

01 Gesso

8B Caolino

9G Ostrica

6B Grigio Pietra

14 Nero

02 Talco

9F Sand

4G Argilla

8C Cappuccino

5B Grigio Lava

72 Sabbia

8A Beige

9T Toffee

93 Melange

13 Sepia

09 Wengè

98 Oliva

8S Giallo

9B Senape

94 Marsala

81 Fuoco

95 Ruggine

9H Petrolio

9E Deep Blu

04 Bronzo

96 Canna di Fucile

99 Titanio

10 Argento

07 Ottone

05 Dark Bronze

06 Graphite
三聚氰胺美耐板结构

877 Ambience

878 Olmo tranchè

866 Cenere

853 Tabacco

841 Metallic Champagne

842 Metallic Dark Bronze

840 Metallic Graphite
实木

66 Tabacco

53 Olmo grey

50 Rovere cenere

52 Rovere fumé

51 Oak Black
Top Finishings
亚光和高光烤漆色

01 Gesso

8B Caolino

9G Ostrica

6B Grigio Pietra

14 Nero

02 Talco

9F Sand

4G Argilla

8C Cappuccino

5B Grigio Lava

72 Sabbia

8A Beige

9T Toffee

93 Melange

13 Sepia

09 Wengè

98 Oliva

8S Giallo

9B Senape

94 Marsala

81 Fuoco

95 Ruggine

9H Petrolio

9E Deep Blu

04 Bronzo

96 Canna di Fucile

99 Titanio

10 Argento

07 Ottone

05 Dark Bronze

06 Graphite
三聚氰胺美耐板结构

877 Ambience

878 Olmo tranchè

866 Cenere

853 Tabacco

841 Metallic Champagne

842 Metallic Dark Bronze

840 Metallic Graphite
实木

66 Tabacco

53 Olmo grey

50 Rovere cenere

52 Rovere fumé

51 Oak Black
Raster Finishings
亚光和高光烤漆色

01 Gesso

8B Caolino

9G Ostrica

6B Grigio Pietra

14 Nero

02 Talco

9F Sand

4G Argilla

8C Cappuccino

5B Grigio Lava

72 Sabbia

8A Beige

9T Toffee

93 Melange

13 Sepia

09 Wengè

98 Oliva

8S Giallo

9B Senape

94 Marsala

81 Fuoco

95 Ruggine

9H Petrolio

9E Deep Blu

04 Bronzo

96 Canna di Fucile

99 Titanio

10 Argento

07 Ottone

05 Dark Bronze

06 Graphite
Back Panel Finishings
亚光和高光烤漆色

01 Gesso

8B Caolino

9G Ostrica

6B Grigio Pietra

14 Nero

02 Talco

9F Sand

4G Argilla

8C Cappuccino

5B Grigio Lava

72 Sabbia

8A Beige

9T Toffee

93 Melange

13 Sepia

09 Wengè

98 Oliva

8S Giallo

9B Senape

94 Marsala

81 Fuoco

95 Ruggine

9H Petrolio

9E Deep Blu

04 Bronzo

96 Canna di Fucile

99 Titanio

10 Argento

07 Ottone

05 Dark Bronze

06 Graphite
Tecno-Marble

T01 Calacatta Smooth Vena grigia

T02 Calacatta Oro
三聚氰胺美耐板结构

877 Ambience

878 Olmo tranchè

866 Cenere

853 Tabacco

841 Metallic Champagne

842 Metallic Dark Bronze

840 Metallic Graphite
实木

66 Tabacco

53 Olmo grey

50 Rovere cenere

52 Rovere fumé

51 Oak Black
Wooden Front Finishings
亚光和高光烤漆色

01 Gesso

8B Caolino

9G Ostrica

6B Grigio Pietra

14 Nero

02 Talco

9F Sand

4G Argilla

8C Cappuccino

5B Grigio Lava

72 Sabbia

8A Beige

9T Toffee

93 Melange

13 Sepia

09 Wengè

98 Oliva

8S Giallo

9B Senape

94 Marsala

81 Fuoco

95 Ruggine

9H Petrolio

9E Deep Blu

04 Bronzo

96 Canna di Fucile

99 Titanio

10 Argento

07 Ottone

05 Dark Bronze

06 Graphite
Matt lacquered antique brass colours

7R Ottone Anticato

5R Dark Bronze Anticato

6R Graphite Anticato
亚光烤漆色

L01 Gesso

L8B Caolino

L9G Ostrica

L6B Grigio Pietra

L14 Nero

L02 Talco

L9F Sand

L4G Argilla

L8C Cappuccino

L5B Grigio Lava

L72 Sabbia

L8A Beige

L9T Toffee

L93 Melange

L13 Sepia

L09 Wengè

L98 Oliva

L8S Giallo

L9B Senape

L94 Marsala

L81 Fuoco

L95 Ruggine

L9H Petrolio

L9E Deep Blu
三聚氰胺美耐板结构

877 Ambience

866 Cenere

853 Tabacco

851 Rovere Nero

841 Metallic Champagne

842 Metallic Dark Bronze

840 Metallic Graphite
实木

66 Tabacco

53 Olmo grey

50 Rovere cenere

52 Rovere fumé

51 Oak Black

62 Ebano
54 Eucalipto
Glossy veneers

L53 Olmo Grey

L51 Rovere Nero

L62 Ebano

L54 Eucalipto
Front Profile "0" Finishings
背漆玻璃

01 Gesso

8B Caolino

9G Ostrica

6B Grigio Pietra

14 Nero

02 Talco

9F Sand

4G Argilla

8C Cappuccino

5B Grigio Lava

72 Sabbia

8A Beige

9T Toffee

93 Melange

13 Sepia

09 Wengè

98 Oliva

8S Giallo

9B Senape

94 Marsala

81 Fuoco

95 Ruggine

9H Petrolio

9E Deep Blu
磨砂玻璃

01 Gesso

8B Caolino

9G Ostrica

6B Grigio Pietra

14 Nero

02 Talco

9F Sand

4G Argilla

8C Cappuccino

5B Grigio Lava

72 Sabbia

8A Beige

9T Toffee

93 Melange

13 Sepia

09 Wengè

98 Oliva

8S Giallo

9B Senape

94 Marsala

81 Fuoco

95 Ruggine

9H Petrolio

9E Deep Blu
镜面

V07 Naturale

V16 Fumè

V08 Bronzo
磨砂镜面

V02 Naturale

V17 Grey

V11 Bronzo
Tecno-Marble

T01 Calacatta Smooth Vena grigia

T02 Calacatta Oro
实木

66 Tabacco

53 Olmo grey

50 Rovere cenere

52 Rovere fumé

51 Oak Black

62 Ebano
54 Eucalipto
Suede 皮革

HA6 Neve

HA5 Marmotta

HA2 Nuvola

HA3 Blu
Embossed 环保皮革

C_CE3

C_CE5

C_CL1

C_CL3

C_CL7

C_CL8

C_CL6
Door Narcisse Day Finishings
背漆玻璃

01 Gesso

8B Caolino

9G Ostrica

6B Grigio Pietra

14 Nero

02 Talco

9F Sand

4G Argilla

8C Cappuccino

5B Grigio Lava

72 Sabbia

8A Beige

9T Toffee

93 Melange

13 Sepia

09 Wengè

98 Oliva

8S Giallo

9B Senape

94 Marsala

81 Fuoco

95 Ruggine

9H Petrolio

9E Deep Blu
磨砂玻璃

01 Gesso

8B Caolino

9G Ostrica

6B Grigio Pietra

14 Nero

02 Talco

9F Sand

4G Argilla

8C Cappuccino

5B Grigio Lava

72 Sabbia

8A Beige

9T Toffee

93 Melange

13 Sepia

09 Wengè

98 Oliva

8S Giallo

9B Senape

94 Marsala

81 Fuoco

95 Ruggine

9H Petrolio

9E Deep Blu
透明玻璃

V00 Naturale

V05 Fumé

V01 Bronzo
反射玻璃

V18 Naturale

V04 Fumé

V03 Bronzo
Drawer Interior Finishings
三聚氰胺美耐板结构

877 Ambience
TV panel finishings
亚光和高光烤漆色

01 Gesso

8B Caolino

9G Ostrica

6B Grigio Pietra

14 Nero

02 Talco

9F Sand

4G Argilla

8C Cappuccino

5B Grigio Lava

72 Sabbia

8A Beige

9T Toffee

93 Melange

13 Sepia

09 Wengè

98 Oliva

8S Giallo

9B Senape

94 Marsala

81 Fuoco

95 Ruggine

9H Petrolio

9E Deep Blu

04 Bronzo

96 Canna di Fucile

99 Titanio

10 Argento

07 Ottone

05 Dark Bronze

06 Graphite
亚光烤漆色

L01 Gesso

L8B Caolino

L9G Ostrica

L6B Grigio Pietra

L14 Nero

L02 Talco

L9F Sand

L4G Argilla

L8C Cappuccino

L5B Grigio Lava

L72 Sabbia

L8A Beige

L9T Toffee

L93 Melange

L13 Sepia

L09 Wengè

L98 Oliva

L8S Giallo

L9B Senape

L94 Marsala

L81 Fuoco

L95 Ruggine

L9H Petrolio

L9E Deep Blu
三聚氰胺美耐板结构

877 Ambience

866 Cenere

853 Tabacco

851 Rovere Nero

841 Metallic Champagne

842 Metallic Dark Bronze

840 Metallic Graphite
实木

66 Tabacco

53 Olmo grey

50 Rovere cenere

52 Rovere fumé

51 Oak Black
尺寸