Urban
Iriam Bettera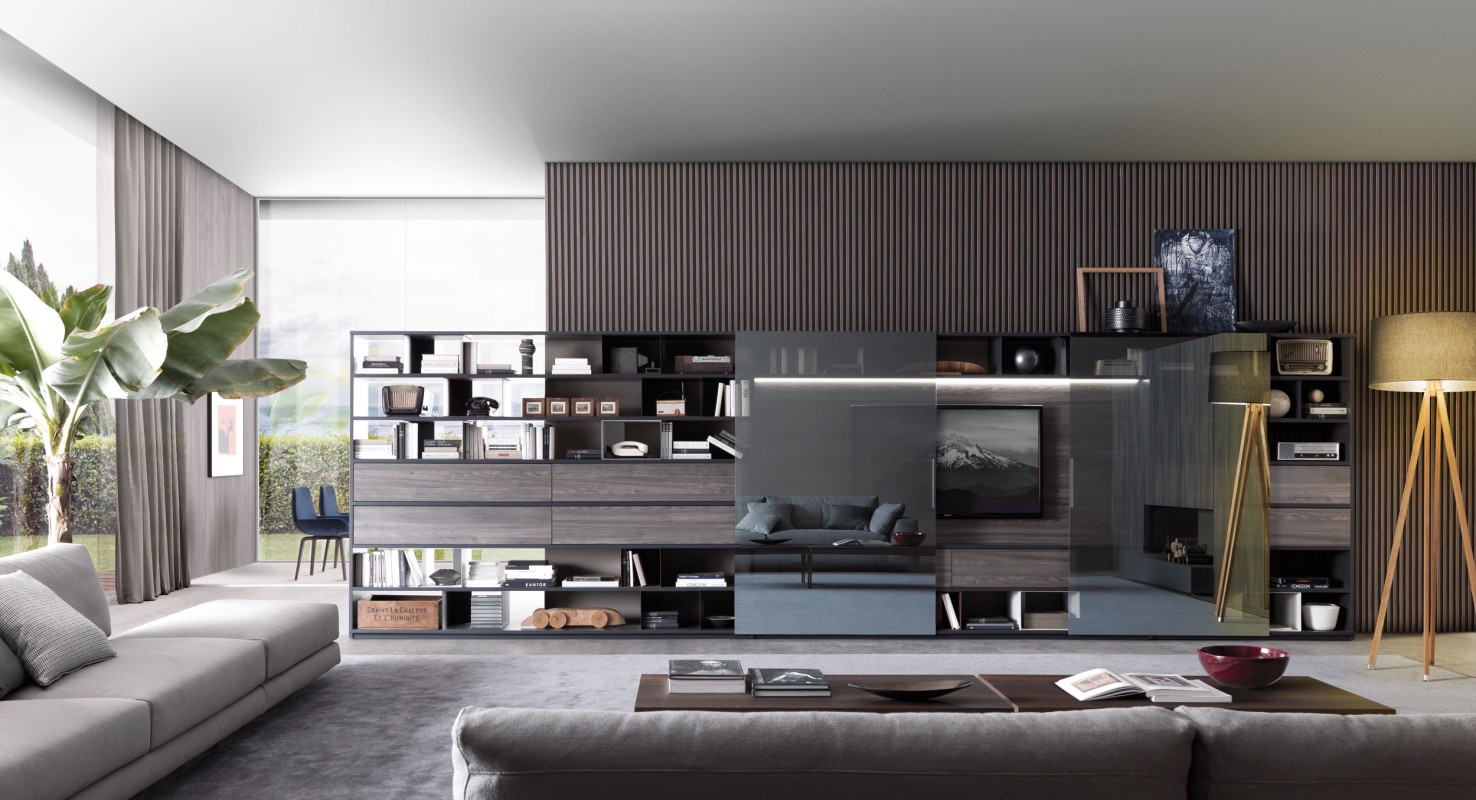 The Urban system expands the creative possibilities starting from the choice of a freestanding or a wall-mounted composition, to the finishes range, up to the selection and placement of various featuring elements: colored metal boxes, storage units with flap door or fitted with drawer, tv panels, equipped with LED system, and glass sliding doors.
Type
/ Systems
Technical description
Bookcase modules made of horizontal shelves in 20 lengths, with 120 mm pitch and interrupted by metal boxes or by insertion side panels, in 2 heights. Two-sided compositions or wall-mounted solutions can be created, and completed by inserting containers, flap doors or drawers, or TV panels.
Structure
Wood particleboard panel th.22mm with melamine facing or lacquered finish.
Metal boxes
Metal with an epoxy enamel finish.
Insertion side panels
Wood particleboard panel Th.22mm with melamine facing or lacquered finish.
Containers
Wood particleboard th.19mm with melamine facing.
Wood fronts
Fronts th.19mm. flush with the bookcase: wood particleboard panel, th.19mm, in lacquered finish or wood veneer.
Front panel with rebate on 3 sides: MDF panel th.19mm in lacquered finish.
"Narcisse day" flap doors
Metal frame th.22mm and dedicated handle in gun metal finish, tempered glass.
Sliding doors in glass
Tempered glass th.6mm. The door can slide even in front of the containers inserted in the bookcase.
Upper/lower track of sliding door
Applied at the edge of the shelves, they contain the sliders and the open/close system's shock absorbers.
All electrical systems are provided pre-wired in compliance with current laws.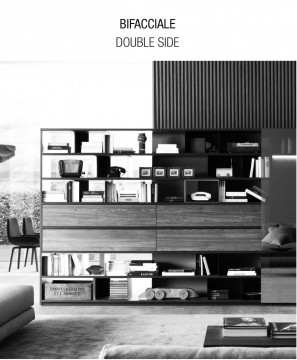 Designer
Iriam Bettera
Iriam Bettera was born in Clusone in 1960. Terminated his studies and he makes a short experience cooperating with a research and projects group to then open his own office where in 1990, a part from design, works in the residential and commercial architecture, dedicating himself also to projects of commercial spaces, fairs and hotels both in Italy as well as abroad. He operates also in the graphic field, packaging and communication. He feels that to design is assigned a social role which is to make the quality of life better through the creation of objects, easily replicable industrially, safe, sustainable, obviously beautiful but most of all usable even in an everyday life. This vision produces numerous collaborations with companies of various sectors: furniture and complements, electrical household appliances and electrical medical appliances, free time, urban furnishing, early childhood, fashion accessories, watches and accessories. He is in charge of architectonic projects and works on lay-outs of several furniture shops in Italy, as a consultant. He is committed as an interior designer in important projects in Italy and abroad.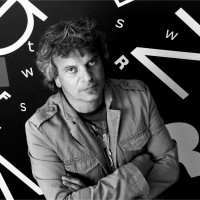 Structure / Insertion Side Panels Finishings
Matt lacquered colours

01 Gesso

8B Caolino

9G Ostrica

6B Grigio Pietra

14 Nero

02 Talco

9F Sand

4G Argilla

8C Cappuccino

5B Grigio Lava

72 Sabbia

8A Beige

9T Toffee

93 Melange

13 Sepia

09 Wengè

98 Oliva

8S Giallo

9B Senape

94 Marsala

81 Fuoco

95 Ruggine

9H Petrolio

9E Deep Blu

04 Bronzo

96 Canna di Fucile

99 Titanio

10 Argento

07 Ottone

05 Dark Bronze

06 Graphite
Melamine

866 Cenere

853 Tabacco

841 Metallic Champagne

842 Metallic Dark Bronze

840 Metallic Graphite
Metal Box Finishings
Matt lacquered colours

01 Gesso

8B Caolino

9G Ostrica

6B Grigio Pietra

14 Nero

02 Talco

9F Sand

4G Argilla

8C Cappuccino

5B Grigio Lava

72 Sabbia

8A Beige

9T Toffee

93 Melange

13 Sepia

09 Wengè

98 Oliva

8S Giallo

9B Senape

94 Marsala

81 Fuoco

95 Ruggine

9H Petrolio

9E Deep Blu

04 Bronzo

96 Canna di Fucile

99 Titanio

10 Argento

07 Ottone

05 Dark Bronze

06 Graphite
Matt lacquered antique brass colours

7R Ottone Anticato

5R Dark Bronze Anticato

6R Graphite Anticato
Container Finishings
Melamine

877 Ambience
Wooden front Finishings
Matt lacquered colours

01 Gesso

8B Caolino

9G Ostrica

6B Grigio Pietra

14 Nero

02 Talco

9F Sand

4G Argilla

8C Cappuccino

5B Grigio Lava

72 Sabbia

8A Beige

9T Toffee

93 Melange

13 Sepia

09 Wengè

98 Oliva

8S Giallo

9B Senape

94 Marsala

81 Fuoco

95 Ruggine

9H Petrolio

9E Deep Blu

04 Bronzo

96 Canna di Fucile

99 Titanio

10 Argento

07 Ottone

05 Dark Bronze

06 Graphite
High gloss lacquered colors

L01 Gesso

L8B Caolino

L9G Ostrica

L6B Grigio Pietra

L14 Nero

L02 Talco

L9F Sand

L4G Argilla

L8C Cappuccino

L5B Grigio Lava

L72 Sabbia

L8A Beige

L9T Toffee

L93 Melange

L13 Sepia

L09 Wengè

L98 Oliva

L8S Giallo

L9B Senape

L94 Marsala

L81 Fuoco

L95 Ruggine

L9H Petrolio

L9E Deep Blu
Melamine

866 Cenere

853 Tabacco

841 Metallic Champagne

842 Metallic Dark Bronze

840 Metallic Graphite
Matt Veneers

66 Tabacco

53 Olmo grey

50 Rovere cenere

52 Rovere fumé

51 Oak Black

62 Ebano
54 Eucalipto
Glossy veneers

L53 Olmo Grey

L51 Rovere Nero

L62 Ebano

L54 Eucalipto
Narcisse Day Door Finishings
Varnished glass

01 Gesso

8B Caolino

9G Ostrica

6B Grigio Pietra

14 Nero

02 Talco

9F Sand

4G Argilla

8C Cappuccino

5B Grigio Lava

72 Sabbia

8A Beige

9T Toffee

93 Melange

13 Sepia

09 Wengè

98 Oliva

8S Giallo

9B Senape

94 Marsala

81 Fuoco

95 Ruggine

9H Petrolio

9E Deep Blu
Frosted varnished glass

01 Gesso

8B Caolino

9G Ostrica

6B Grigio Pietra

14 Nero

02 Talco

9F Sand

4G Argilla

8C Cappuccino

5B Grigio Lava

72 Sabbia

8A Beige

9T Toffee

93 Melange

13 Sepia

09 Wengè

98 Oliva

8S Giallo

9B Senape

94 Marsala

81 Fuoco

95 Ruggine

9H Petrolio

9E Deep Blu
Transparent glass

V00 Naturale

V05 Fumé

V01 Bronzo
Reflecting glass

V18 Naturale

V04 Fumé

V03 Bronzo
Sliding doors finishings
Varnished glass

01 Gesso

8B Caolino

9G Ostrica

6B Grigio Pietra

14 Nero

02 Talco

9F Sand

4G Argilla

8C Cappuccino

5B Grigio Lava

72 Sabbia

8A Beige

9T Toffee

93 Melange

13 Sepia

09 Wengè

98 Oliva

8S Giallo

9B Senape

94 Marsala

81 Fuoco

95 Ruggine

9H Petrolio

9E Deep Blu
Frosted varnished glass

01 Gesso

8B Caolino

9G Ostrica

6B Grigio Pietra

14 Nero

02 Talco

9F Sand

4G Argilla

8C Cappuccino

5B Grigio Lava

72 Sabbia

8A Beige

9T Toffee

93 Melange

13 Sepia

09 Wengè

98 Oliva

8S Giallo

9B Senape

94 Marsala

81 Fuoco

95 Ruggine

9H Petrolio

9E Deep Blu
Transparent glass

V00 Naturale

V05 Fumé

V01 Bronzo
Reflecting glass

V18 Naturale

V04 Fumé

V03 Bronzo
Dimensions