Surface
Marco Piva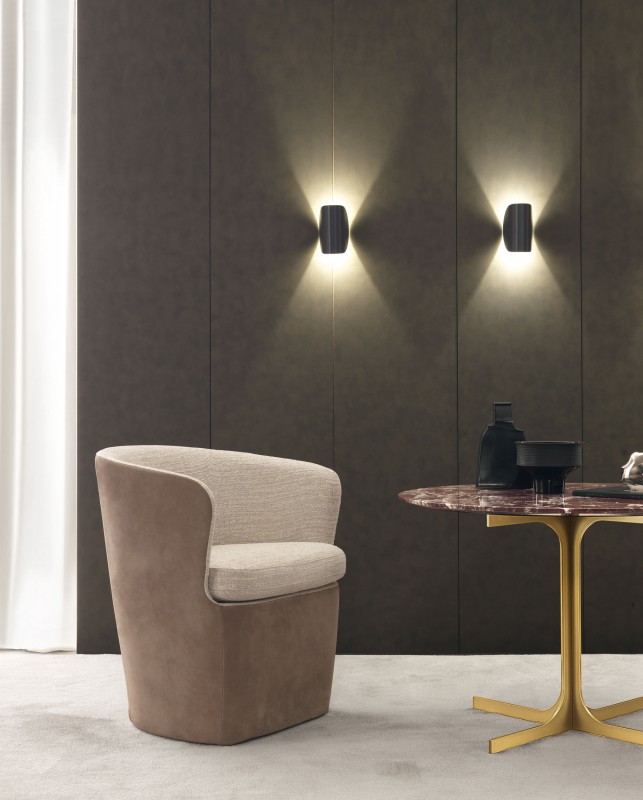 The refined elegance of Surface is a result of its sinuous design. The combination of colors and different materials defines the boundary between inside and outside, creating a comfortable, soft nest.
Type
/ Armchairs
Technical description
Shell in cold moulded polyurethane foam with fabric or leather covering, removable by expert personnel.
The back front and seat of the armchair can be covered in textile different from the rear.
It is available the bicolor variant with different finishings for both the front upholstery and the back one.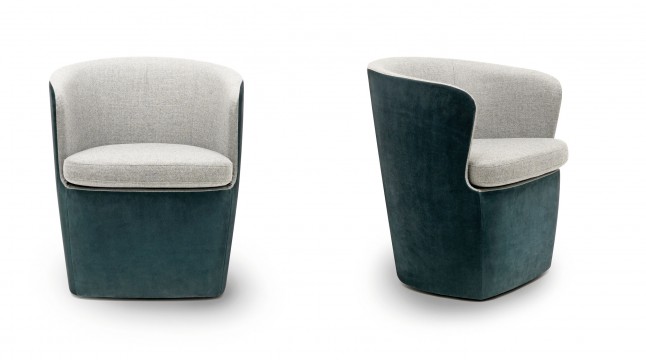 Designer
Marco Piva
Exciting, fluid, functional, this is the language that distinguishes Marco Piva's architectural creations, product design and interior design. The effort in material research and technology, the value of differentiation and innovation, leads to an intense design production, that become one of the most representative in the context of the Italian creativity and design. Marco Piva, a traveller and a designer, is an innovator who is dedicated to create unique design solutions pervaded by stylistic freedom. In Japan, in Osaka, the Studio has participated in the design and construction of the innovative complex Next 21, in the UAE designed for the hotel and residential complexes of Oceana and Tiara on Palm Jumeirah in Dubai. Studio Marco Piva has also designed the Laguna Palace in Mestre, the Port Palace in Monte Carlo, the Hotel Mirage in Kazan, the Una Hotel in Bologna, the T Hotel in Cagliari, the DoubleTree by Hilton in Mogliano Veneto, the multifunctional complex Le Terrazze in Treviso, and the prestigious Excelsior Hotel Gallia in Milan. Recent projects are the Feng Tai Business Cluster in Beijing, the Yuhang cultural Center, the Dianshan Lake Master Plan in Shanghai, Villas in Beverly Hills. He also designed the Concept Design for Bulgari worldwide windows and the Casa Alitalia lounges for Alitalia. Currently, it is engaged in the development of hotel complexes and prestigious private houses in China, United States, India, Monte Carlo, United Arab Emirates, Italy, Albania and Algeria, and in the creation of design furniture and complements  for the main companies.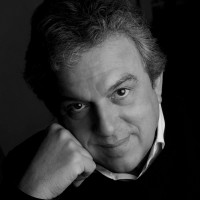 Cover Finishings
Fabrics

A_AS1 Saari

A_AS2 Saari

A_AS4 Saari

A_AS5 Saari

A_AS7 Saari

B_CAE Cocò

B_CAM Cocò

B_CAK Cocò

B_CAF Cocò

B_BC1 Burana

B_BC3 Burana

B_BC4 Burana

B_BC6 Burana

C_C10 Star

C_C11 Star

C_C17 Star

C_C16 Star

C_C18 Star

C_C15 Star

D_D91 Panama

D_D92 Panama

D_D93 Panama

D_D94 Panama

D_D95 Panama

D_D98 Panama

D_i71 Clou

D_i74 Clou

D_i79 Clou

D_i72 Clou

D_i78 Clou

D_D01 Ubaye

D_D03 Ubaye

D_D05 Ubaye

E_E20 Mood

E_E25 Mood

E_E22 Mood

E_E26 Mood

E_E27 Mood

E_E21 Mood

E_E28 Mood

E_E51 Lido

E_E52 Lido

E_E54 Lido

F_E50 Luxus

F_F01 Luxus

F_F02 Luxus

F_F03 Luxus

F_F05 Luxus

F_F11 Lama

F_F14 Lama

F_F12 Lama

F_F15 Lama

F_F25 Gaucho

F_F21 Gaucho

F_F23 Gaucho

F_F24 Gaucho

F_F33 Velvet

F_F35 Velvet

F_F32 Velvet

F_EM5 Velvet

H_H42 Sera

H_H44 Sera

H_H47 Sera

H_H48 Sera

H_H50 Opera

H_H53 Opera

H_H55 Opera

H_H56 Opera
Smooth leathers

H30 Gesso

H38 Sand

H36 Camoscio

H32 Acacia

H31 Naturale

H37 Marmotta

H71 Testa di Moro

H35 Grigio Chiaro

H40 Blu Notte

H73 Nero
Nubuck

HN2 Carbone

HN3 Grigio
Smooth eco-leathers

C_CE1

C_CD3

C_CF6

C_CD1

C_CD4

C_CD5
Embossed eco-leathers

C_CE3

C_CE5

C_CL1

C_CL3

C_CL7

C_CL8

C_CL6
Back finishings (bicolor version)
Smooth leathers

H30 Gesso

H38 Sand

H36 Camoscio

H32 Acacia

H31 Naturale

H37 Marmotta

H71 Testa di Moro

H35 Grigio Chiaro

H40 Blu Notte

H73 Nero
Suede leathers

HA6 Neve

HA5 Marmotta

HA2 Nuvola

HA3 Blu
Printed leathers

HV2 Marrone

HV1 Nero
Nubuck

HN2 Carbone

HN3 Grigio
Smooth eco-leathers

C_CE1

C_CD3

C_CF6

C_CD1

C_CD4

C_CD5
Embossed eco-leathers

C_CE3

C_CE5

C_CL1

C_CL3

C_CL7

C_CL8

C_CL6
Dimensions
Fixed armchair