Plan
CR&S MisuraEmme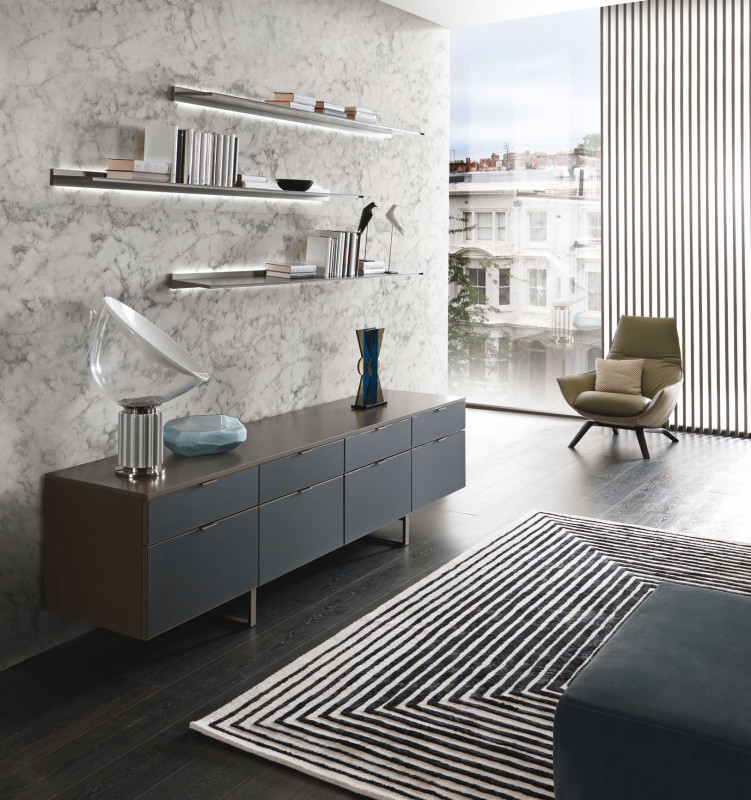 Plan has a real graphic feel to its top surface, while it is the stunning handles in shiny aluminium – fitted on the four sliding, coplanar doors – that bring some theatre to the piece. Your eye is immediately drawn to this stylised vortex, yet the design is also practical and makes for a more comfortable grip.
Type
/ Sideboards
Technical description
Series of sideboards with fixed designs available in three types:
- suspended
- with adjustable feet H.15mm (5/8"), available two-sided unit with fixed back panel)
- with metal base H.165mm (6 4/8") , available two-sided unit with fixed back panel).
and two width 1920/2560mm (75 7/8" – 100 6/8"), fitted sideboards with hinged doors, drawers, flap doors.
Available with possibility to have a space between the back and the wall to hide TV cables.
The versions with adjustable feet or metal base are also available with possibility in two-sided unit with fixed back panel in the finishings: matt lacquer, glossy lacquer or wood.
The versions with metal base is also available with coplanar doors with closing shock absorber system and handles mod. Regula.
Finishes structure:
- external: matt or glossy lacquer
- internal: melamine ambience or matt lacquer.
Finishes doors, drawers and down flap doors profile "0":
- matt lacquer
- glossy lacquer
- varnished glass
- frosted varnished glass.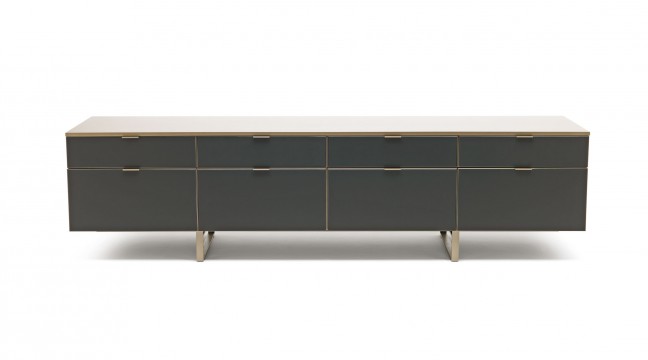 Designer
CR&S MisuraEmme
Care for details is a must for MisuraEmme R&D Center. This does not only show through the choice of first-class materials – from Carrara marble to solid oak wood, fabrics made in Italy to European leathers – but also customised processing and craftsmanship give added value to furnishing accessories. All this and more, make the products of MisuraEmme unique and exclusive, a result of a mixture between refinement and innovative technology.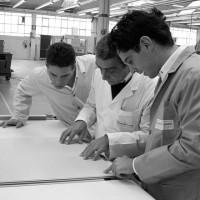 Exterior Structure / Top Finishings
Matt lacquered

01 Gesso

8B Caolino

9G Ostrica

6B Grigio Pietra

14 Nero

02 Talco

9F Sand

4G Argilla

8C Cappuccino

5B Grigio Lava

72 Sabbia

8A Beige

9T Toffee

93 Melange

13 Sepia

09 Wengè

81 Fuoco

94 Marsala

95 Ruggine

8S Giallo

9B Senape

98 Oliva

9H Petrolio

9E Deep Blu
High gloss lacquered

L01 Gesso

L8B Caolino

L9G Ostrica

L6B Grigio Pietra

L14 Nero

L02 Talco

L9F Sand

L4G Argilla

L8C Cappuccino

L5B Grigio Lava

L72 Sabbia

L8A Beige

L9T Toffee

L93 Melange

L13 Sepia

L09 Wengè

L81 Fuoco

L94 Marsala

L95 Ruggine

L8S Giallo
L9B Senape

L98 Oliva

L9H Petrolio

L9E Deep Blu
Matt Veneers

50 Cenere

53 Elm grey

51 Black oak

66 Tobacco
Interior structure Finishings
Matt lacquered

01 Gesso

8B Caolino

9G Ostrica

6B Grigio Pietra

14 Nero

02 Talco

9F Sand

4G Argilla

8C Cappuccino

5B Grigio Lava

72 Sabbia

8A Beige

9T Toffee

93 Melange

13 Sepia

09 Wengè

81 Fuoco

94 Marsala

95 Ruggine

8S Giallo

9B Senape

98 Oliva

9H Petrolio

9E Deep Blu
Melamine
841 Metallic Champagne
Matt Veneers

50 Cenere

53 Elm grey

51 Black oak

66 Tobacco
Door / Drawer Finishings
Matt lacquered

01 Gesso

8B Caolino

9G Ostrica

6B Grigio Pietra

14 Nero

02 Talco

9F Sand

4G Argilla

8C Cappuccino

5B Grigio Lava

72 Sabbia

8A Beige

9T Toffee

93 Melange

13 Sepia

09 Wengè

81 Fuoco

94 Marsala

95 Ruggine

8S Giallo

9B Senape

98 Oliva

9H Petrolio

9E Deep Blu
High gloss lacquered

L01 Gesso

L8B Caolino

L9G Ostrica

L6B Grigio Pietra

L14 Nero

L02 Talco

L9F Sand

L4G Argilla

L8C Cappuccino

L5B Grigio Lava

L72 Sabbia

L8A Beige

L9T Toffee

L93 Melange

L13 Sepia

L09 Wengè

L81 Fuoco

L94 Marsala

L95 Ruggine

L8S Giallo
L9B Senape

L98 Oliva

L9H Petrolio

L9E Deep Blu
Varnished glass

01 Gesso

8B Caolino

9G Ostrica

6B Grigio Pietra

14 Nero

02 Talco

9F Sand

4G Argilla

8C Cappuccino

5B Grigio Lava

72 Sabbia

8A Beige

9T Toffee

93 Melange

13 Sepia

09 Wengè

98 Oliva

8S Giallo

9B Senape

94 Marsala

81 Fuoco

95 Ruggine

9H Petrolio

9E Deep Blu
Frosted varnished glass

X01 Gesso

X8B Caolino

X9G Ostrica

X6B Grigio Pietra

X14 Nero

X02 Talco

X9F Sand

X4G Argilla

X8C Cappuccino

X5B Grigio Lava

X72 Sabbia

X8A Beige

X9T Toffee

X93 Melange

X13 Sepia

X09 Wengè

X98 Oliva

X8S Giallo

X9B Senape

X94 Marsala

X81 Fuoco

X95 Ruggine

X9H Petrolio

X9E Deep Blu
Reflecting glass

V18 Naturale

V04 Fumé

V03 Bronzo
Matt Veneers

50 Cenere

53 Elm grey

51 Black oak

66 Tobacco
Base / Handle Finishings
Metals

522 Satin

524 Varnished Gun metal
Dimensions
Hanging sideboard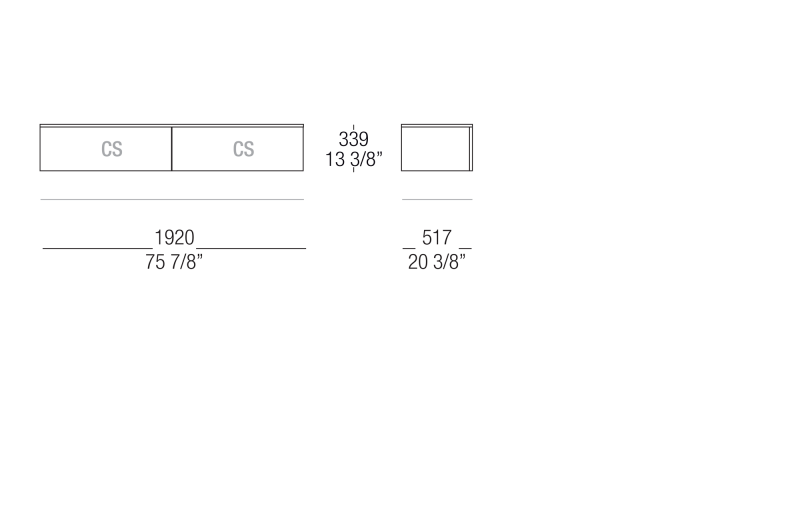 Low sideboard W. 1920 mm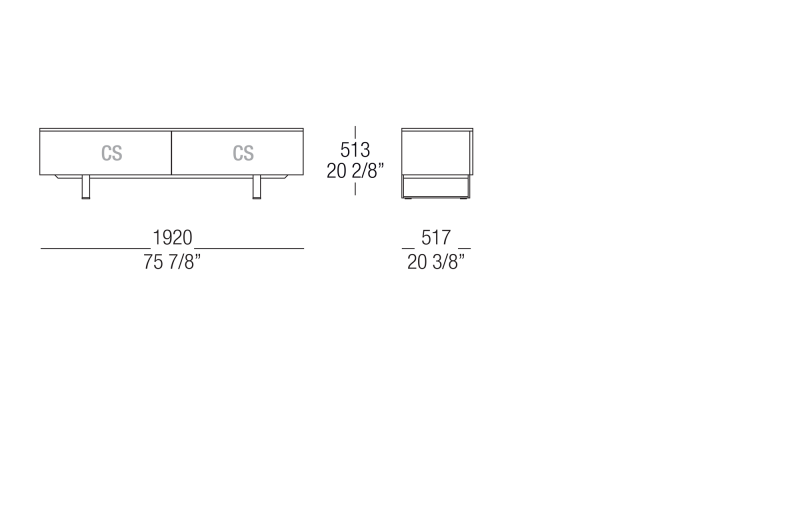 Hanging sideboard W. 2560 mm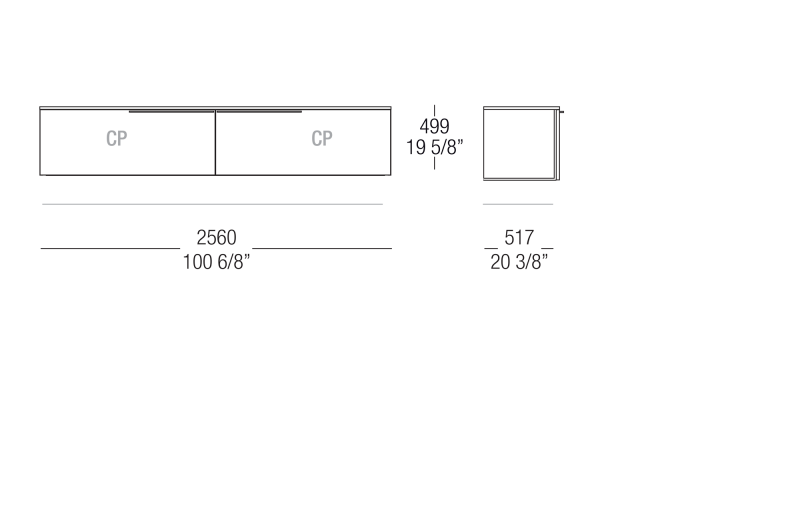 Low sideboard W. 2560 mm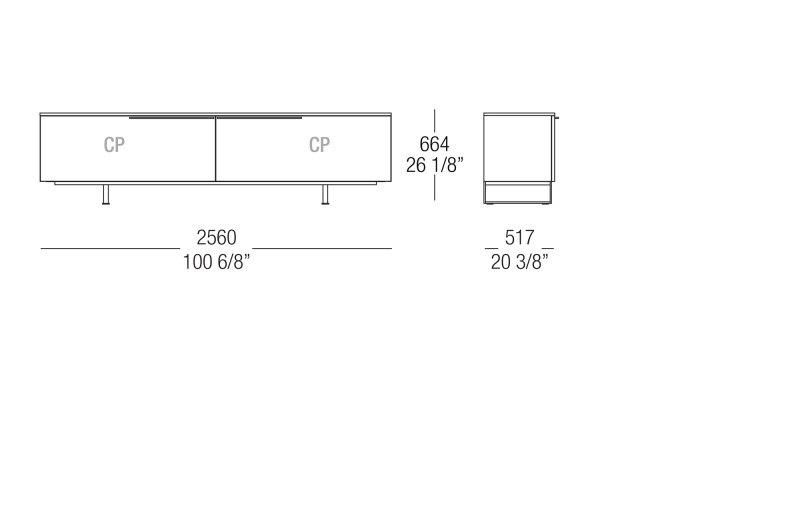 Hanging sideboard W. 1920 mm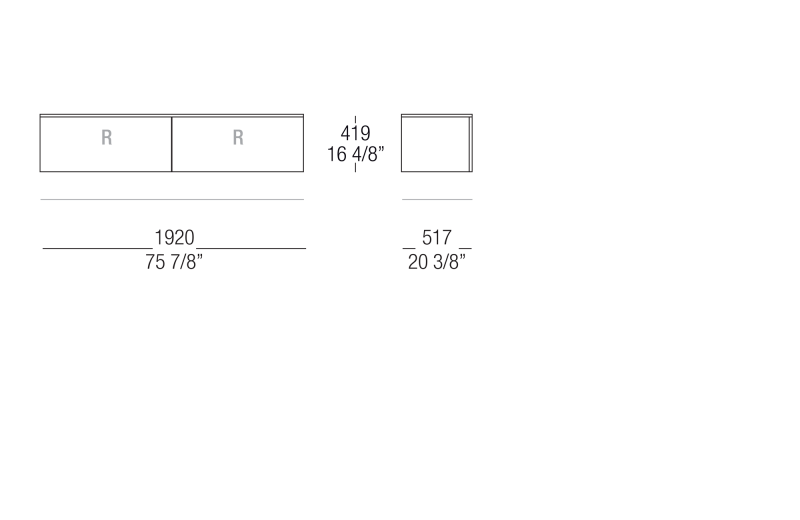 Low sideboard W. 1920 mm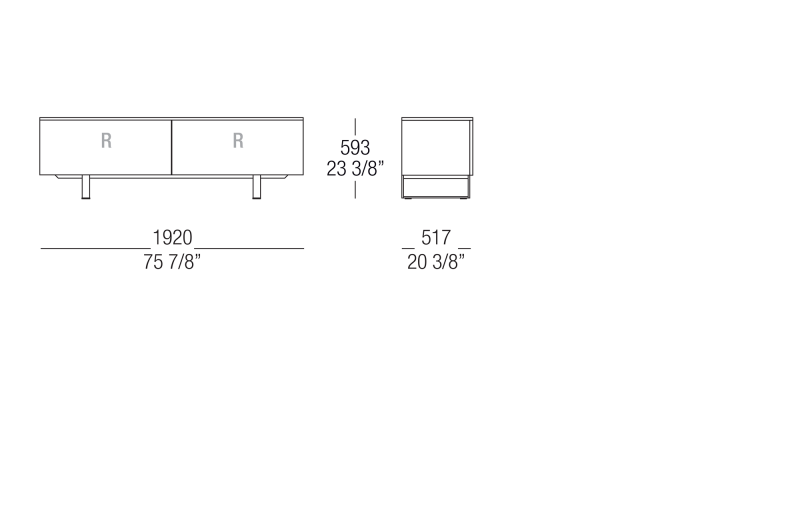 Hanging sideboard W. 2560 mm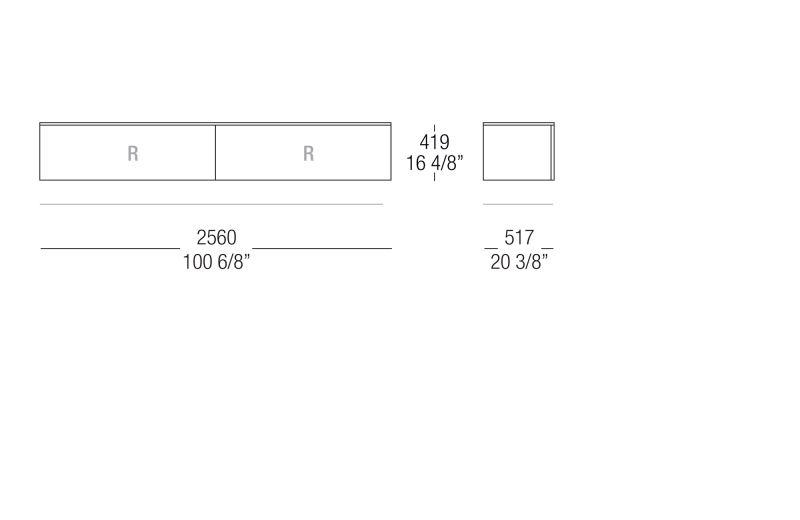 Low sideboard W. 2560 mm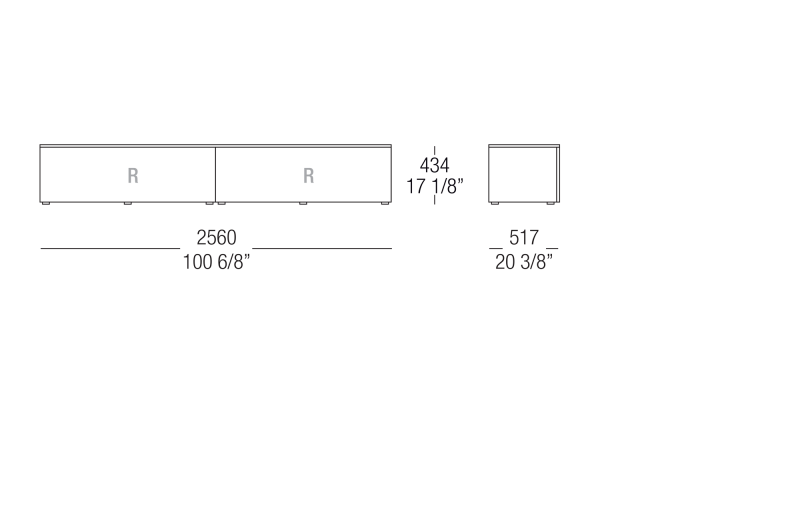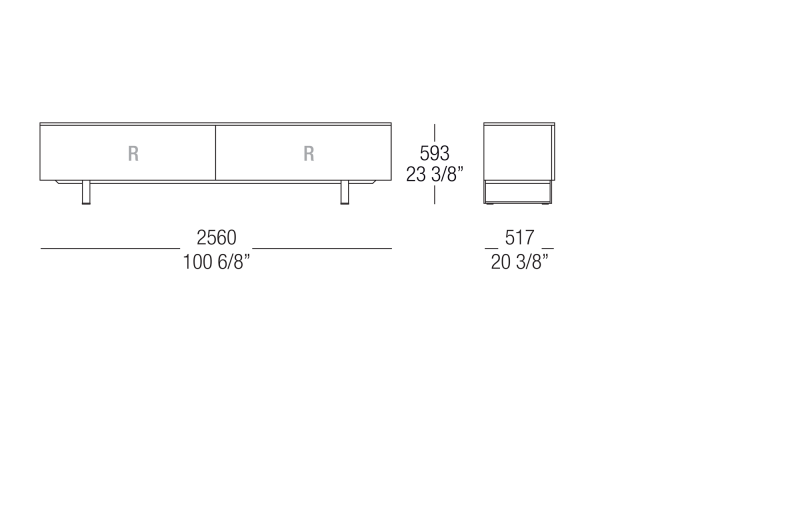 Hanging sideboard W. 2560 mm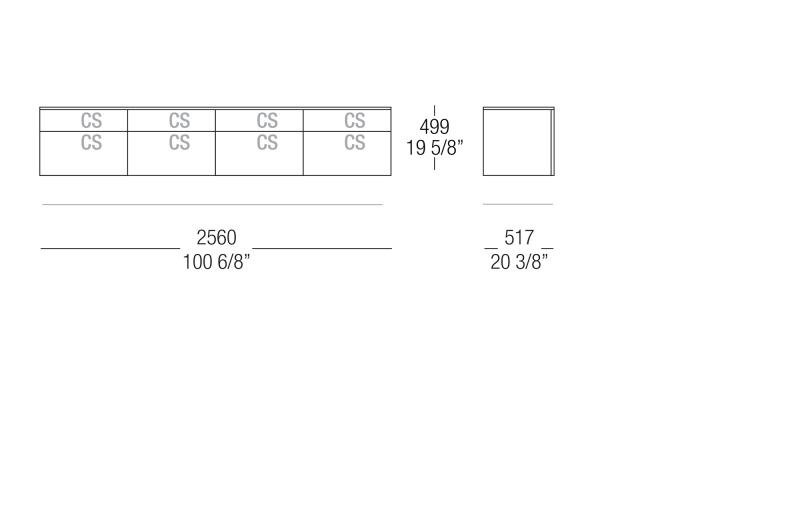 Low sideboard W. 2560 mm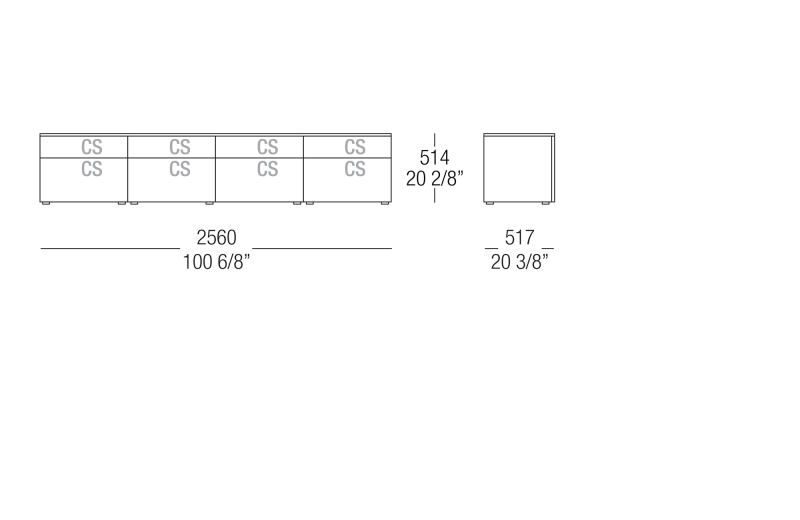 Low sideboard W. 2560 mm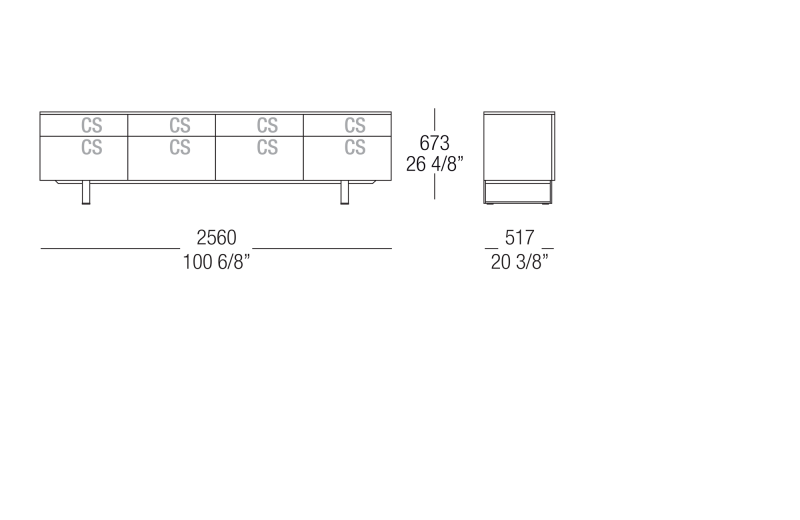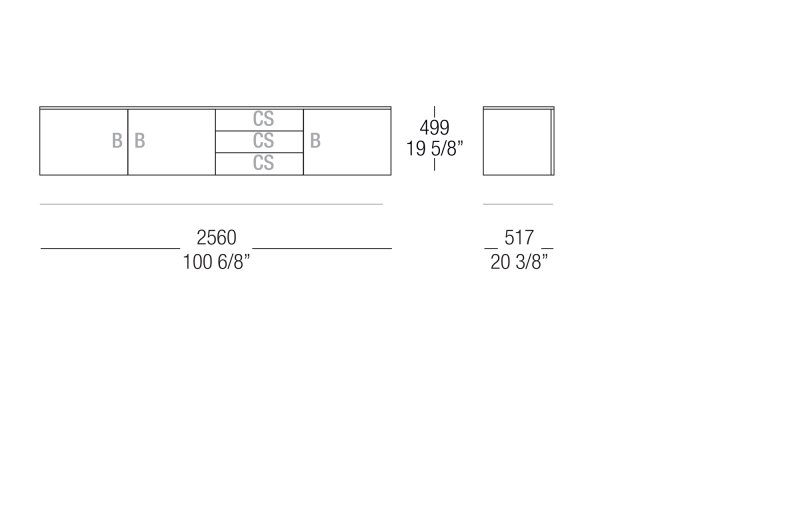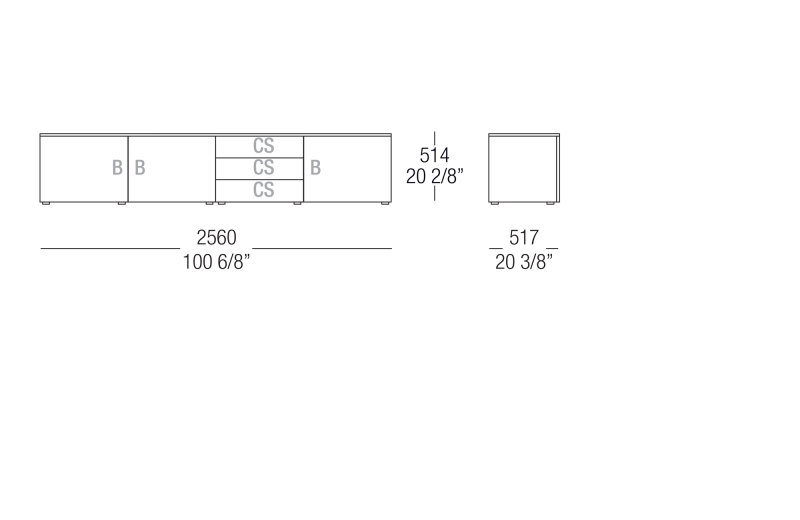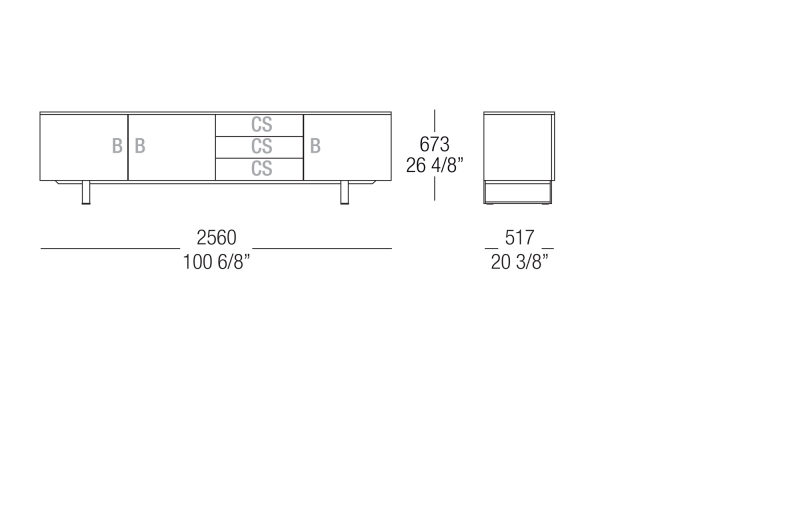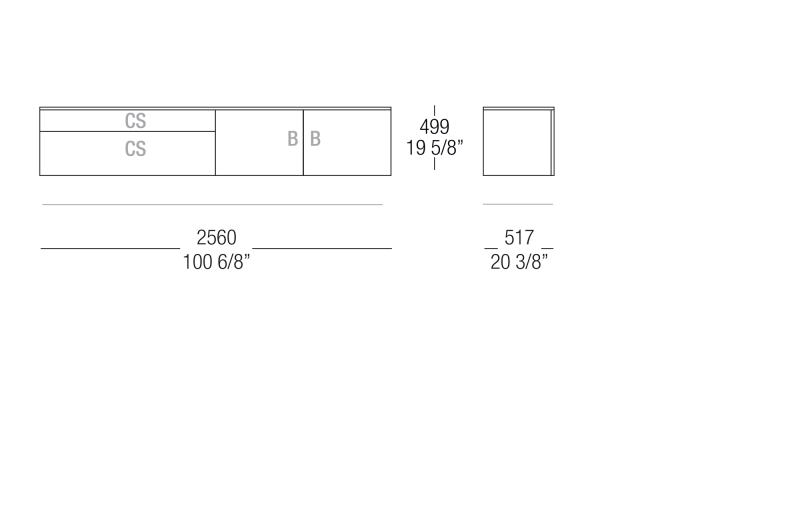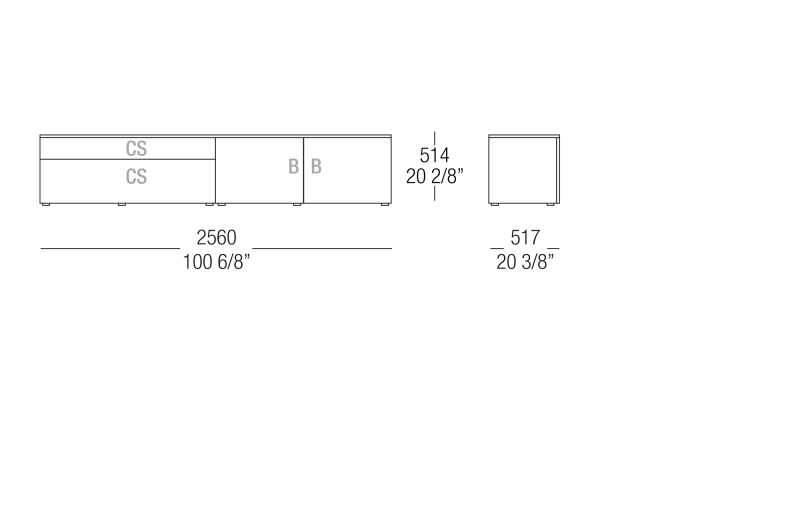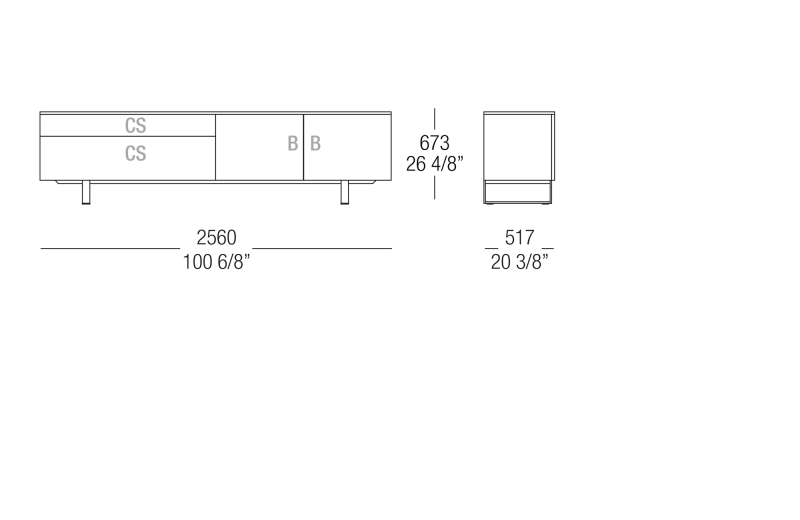 High sideboard W. 1280 mm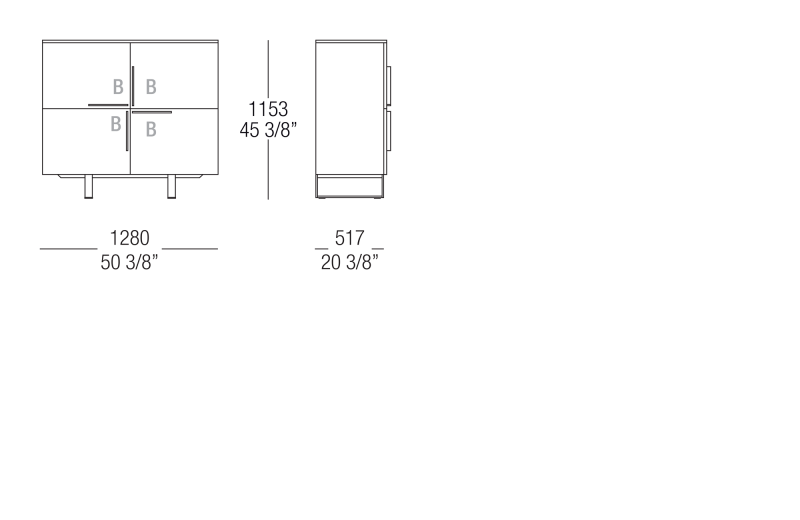 Hanging sideboard W. 1280 mm