Over
Castiglia Associati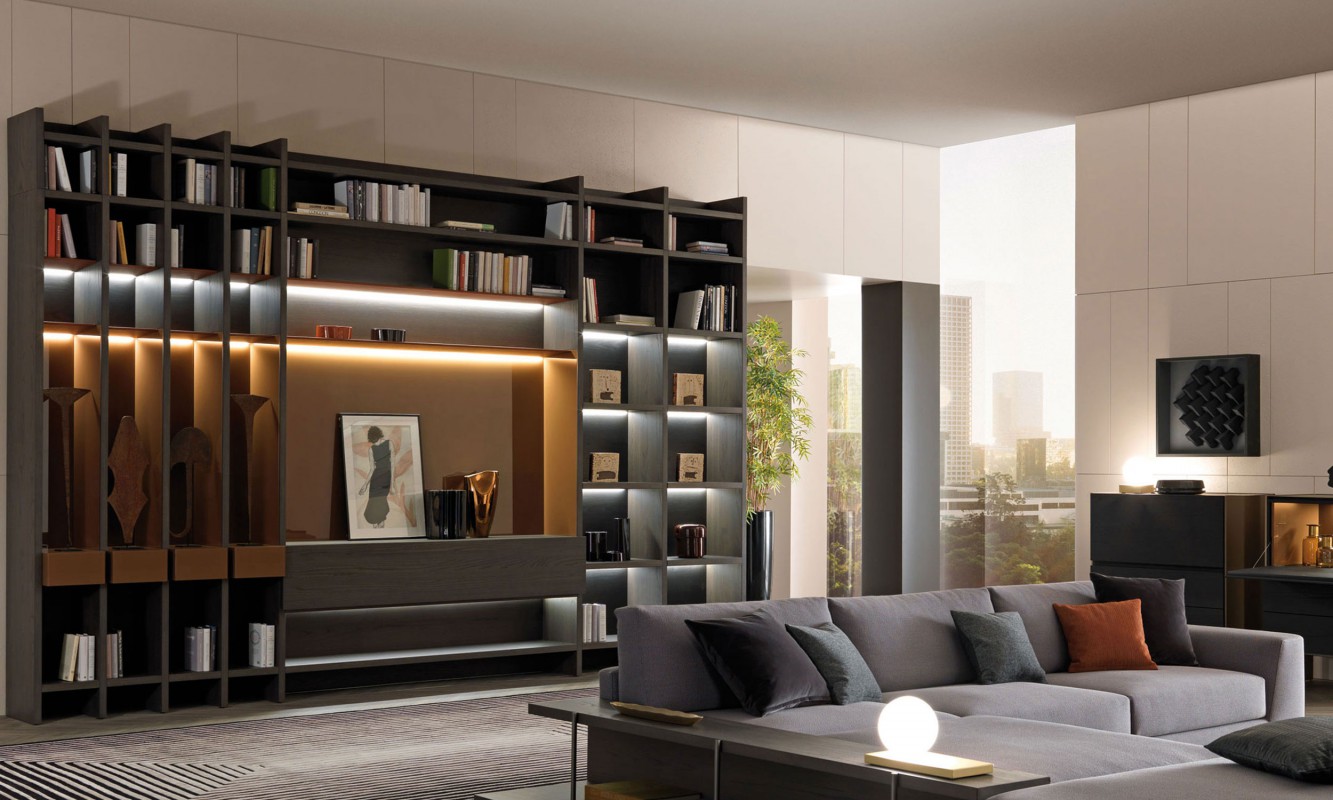 The freedom of composition Over enables the design of broader spans as long as 2200 mm, asymmetrical geometries able to lighten the visual perception by breaking free of the concept of a pure day system and, in support, the horizontal electrified woodwork creates an integrated lighting system. Finishes give an extra special touch and a truly personalization: wood, tecno-marble, tecno-metal, glass and leather are combined in an exceptional material and colours balance that displays – at every combination – a new Over.
Type
/ Systems
Technical description
Over is a modular system of units 380mm. (15") deep available in 7 widths and 2 heights. Back panels th. 25mm (1") available in different finishes that can be overlapped through aluminum trims system, patented by MisuraEmme, integrated with a recessed lighting system.
Side Panels - Bases - Wooden Shelves
Panel th.38mm (1 4/8") in poplar blockboard with three crisscrossed layers and two surface layers of MDF panel th.38mm (1 4/8").
Side Panels
Option of inserts in different finishes to be matched to the back ones, fitted through flush channeling groove system, equipped with adjustable feet.
Back panels
Wood particleboard panels in class E1 th.25mm (1") matt lacquer or wood finish or to be matched as follows wood and wood / tecnomarble and wood / glass and  wood.
Leather shelves th.38mm  (1 4/8") 
Trapezoid shaped aluminum draw-plate structure with aluminum side covers, coated completely in smooth leather. Fitting to the back panel through aluminum trims, patented by MisuraEmme, included recessed Led lighting cables system. Led.
Drawers
External structure covered in tecnomarble, glass or matt lacquer. Internal structure in wood particleboard panels melamine Primo Fiore with totally pull-out guides. Drawer with under protruding opening.
Hinged doors / flap down doors th.22mm (7/8")
Hinged doors with push-pull opening. Flap down doors with over protruding opening. Aluminum frame in gun metal or titanium that can be matched with:
- wooden panel th.6mm (2/8") in matt lacquer or veneer
- glass panel th.4mm (1/8") rear varnished or transparent
- tecnomarble th.6mm (2/8") 
Finishings
Side panels, bases and wooden selves: matt lacquer / wood.
Side panels inserts: matt lacquer / glass / mirror / tecnomarble.
Back panels: matt lacquer / wood, can be matched with matt lacquer / glass / mirror / tecnomarble.
Smooth leather selves.
Hinged doors and flap down doors "Narcisse Day": aluminum frame can be matched with wood / glass / tecnomarble.
Designer
Castiglia Associati
Sergio Castiglia with Marinella Santarelli and Maria Tiziana Tazza have been creating, developing projects and promoting activities in the fields of design and architecture for more than  thirty years, and their projects have contributed to the creation of Italian Style. The Studio's professional competence and heterogeneous experiences have built up a work-team able to deal with creative scenarios and manufacturing sites dedicated to the research of contents and aesthetics of the present. In these past few years, the Studio's working method has been subject to considerable changes, both because of the evolution of computer systems with consequent new graphic representation techniques, and the need to interpret the project as a whole, from its initial concept through its very communication. Successful relations in art direction have been established with several companies, thus enabling the designers to oversee the various project stages and therefore ensure a better product quality. Many are the successful products designed in these years, which have received mentions and won awards in exhibitions and fairs of various sectors. Since 2010 several collaborations abroad have begun functioning (Russia, Oman, Qatar and China) with important companies in the field of design and architecture.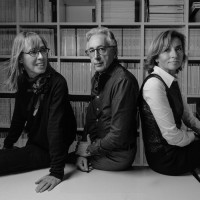 Structure / Shelves Finishings
Matt lacquered colours

01 Gesso

8B Caolino

9G Ostrica

6B Grigio Pietra

14 Nero

02 Talco

9F Sand

4G Argilla

8C Cappuccino

5B Grigio Lava

72 Sabbia

8A Beige

9T Toffee

93 Melange

13 Sepia

09 Wengè

98 Oliva

8S Giallo

9B Senape

94 Marsala

81 Fuoco

95 Ruggine

9H Petrolio

9E Deep Blu

04 Bronzo

96 Canna di Fucile

99 Titanio

10 Argento

07 Ottone

05 Dark Bronze

06 Graphite
High gloss lacquered colors

L01 Gesso

L8B Caolino

L9G Ostrica

L6B Grigio Pietra

L14 Nero

L02 Talco

L9F Sand

L4G Argilla

L8C Cappuccino

L5B Grigio Lava

L72 Sabbia

L8A Beige

L9T Toffee

L93 Melange

L13 Sepia

L09 Wengè

L98 Oliva

L8S Giallo

L9B Senape

L94 Marsala

L81 Fuoco

L95 Ruggine

L9H Petrolio

L9E Deep Blu
Matt Veneers

66 Tabacco

53 Olmo grey

50 Rovere cenere

52 Rovere fumé

51 Oak Black
Side Panel / Back panel Inserts Finishings
Matt lacquered colours

01 Gesso

8B Caolino

9G Ostrica

6B Grigio Pietra

14 Nero

02 Talco

9F Sand

4G Argilla

8C Cappuccino

5B Grigio Lava

72 Sabbia

8A Beige

9T Toffee

93 Melange

13 Sepia

09 Wengè

98 Oliva

8S Giallo

9B Senape

94 Marsala

81 Fuoco

95 Ruggine

9H Petrolio

9E Deep Blu

04 Bronzo

96 Canna di Fucile

99 Titanio

10 Argento

07 Ottone

05 Dark Bronze

06 Graphite
Matt lacquered antique brass colours

7R Ottone Anticato

5R Dark Bronze Anticato

6R Graphite Anticato
Varnished glass

01 Gesso

8B Caolino

9G Ostrica

6B Grigio Pietra

14 Nero

02 Talco

9F Sand

4G Argilla

8C Cappuccino

5B Grigio Lava

72 Sabbia

8A Beige

9T Toffee

93 Melange

13 Sepia

09 Wengè

98 Oliva

8S Giallo

9B Senape

94 Marsala

81 Fuoco

95 Ruggine

9H Petrolio

9E Deep Blu
Tecno-Marble

T01 Calacatta Smooth Vena grigia

T02 Calacatta Oro
Aluminium Shelf Finishings
Metals

537 Verniciato Ottone anticato

536 Verniciato Graphite anticato

535 Verniciato Dark Bronze anticato
Smooth leathers

H30 Gesso

H38 Sand

H36 Camoscio

H32 Acacia

H31 Naturale

H37 Marmotta

H71 Testa di Moro

H35 Grigio Chiaro

H40 Blu Notte

H73 Nero
Drawer Finishings
Matt lacquered colours

01 Gesso

8B Caolino

9G Ostrica

6B Grigio Pietra

14 Nero

02 Talco

9F Sand

4G Argilla

8C Cappuccino

5B Grigio Lava

72 Sabbia

8A Beige

9T Toffee

93 Melange

13 Sepia

09 Wengè

98 Oliva

8S Giallo

9B Senape

94 Marsala

81 Fuoco

95 Ruggine

9H Petrolio

9E Deep Blu

04 Bronzo

96 Canna di Fucile

99 Titanio

10 Argento

07 Ottone

05 Dark Bronze

06 Graphite
Matt lacquered antique brass colours

7R Ottone Anticato

5R Dark Bronze Anticato

6R Graphite Anticato
Varnished glass

01 Gesso

8B Caolino

9G Ostrica

6B Grigio Pietra

14 Nero

02 Talco

9F Sand

4G Argilla

8C Cappuccino

5B Grigio Lava

72 Sabbia

8A Beige

9T Toffee

93 Melange

13 Sepia

09 Wengè

98 Oliva

8S Giallo

9B Senape

94 Marsala

81 Fuoco

95 Ruggine

9H Petrolio

9E Deep Blu
Tecno-Marble

T01 Calacatta Smooth Vena grigia

T02 Calacatta Oro
Doors Finishings
Matt lacquered colours

01 Gesso

8B Caolino

9G Ostrica

6B Grigio Pietra

14 Nero

02 Talco

9F Sand

4G Argilla

8C Cappuccino

5B Grigio Lava

72 Sabbia

8A Beige

9T Toffee

93 Melange

13 Sepia

09 Wengè

98 Oliva

8S Giallo

9B Senape

94 Marsala

81 Fuoco

95 Ruggine

9H Petrolio

9E Deep Blu

04 Bronzo

96 Canna di Fucile

99 Titanio

10 Argento

07 Ottone

05 Dark Bronze

06 Graphite
Matt lacquered antique brass colours

7R Ottone Anticato

5R Dark Bronze Anticato

6R Graphite Anticato
Varnished glass

01 Gesso

8B Caolino

9G Ostrica

6B Grigio Pietra

14 Nero

02 Talco

9F Sand

4G Argilla

8C Cappuccino

5B Grigio Lava

72 Sabbia

8A Beige

9T Toffee

93 Melange

13 Sepia

09 Wengè

98 Oliva

8S Giallo

9B Senape

94 Marsala

81 Fuoco

95 Ruggine

9H Petrolio

9E Deep Blu
Matt Veneers

66 Tabacco

53 Olmo grey

50 Rovere cenere

52 Rovere fumé

51 Oak Black
Dimensions