Elegie
Ignazio Gardella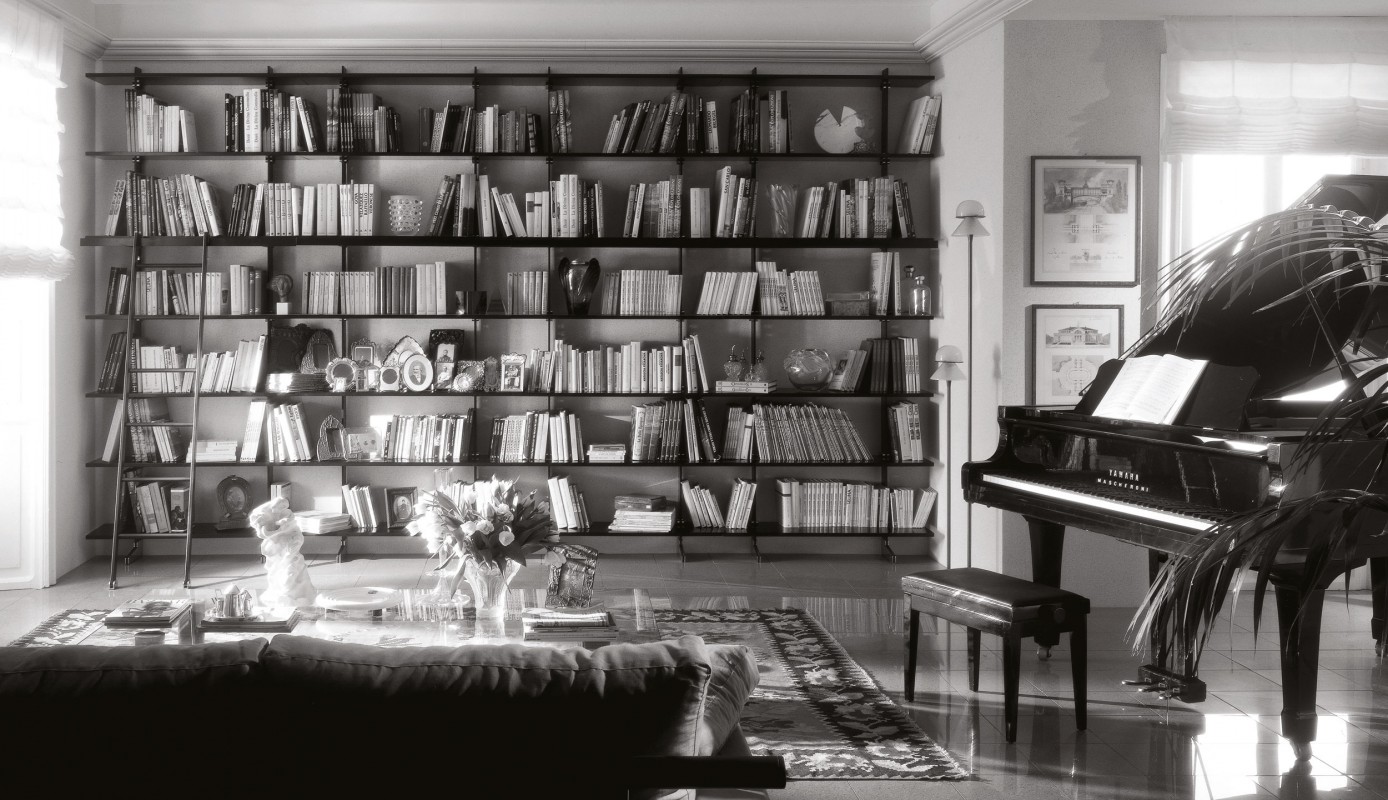 Historical product of 1949
New edition of a 1949 Ignazio Gardella design, noted also for being one of the very first realizations that anticipated the concept of modularity.
Aluminium metal uprights, with holes drilled every 40 mm. (1 5/8") and complete with necessary fixtures to the wall, is in the black epoxy enamel finish on a chromed metal base. Shelves available in two depth with shelf holders in chromed metal, in matt lacquer or veneer. Shelves depth 460mm (18 1/8") can be used as a desk, TV stand or to place HI-FI systems. Composition obtained by simply placing several modules next to each other.
Type
/ Bookcases
Technical description
 Upright: in drawn steel 100 x 100mm (3 7/8" x 3 7/8" inch), black epoxy enamel finish, bracket for wall anchoring in chromed steel.
Shelf holders are movable, in die-cast chromed zamak with eccentric pin for adjusting the shelf.
Base in shaped chromed steel with chromed brass ferrules.
Shelves th.20mm (6/8" inch); blockboard panel of fir wood covered with two layers of MDF, th.3mm (1/8" inch), edges th.1mm (1/16" inch).
Matt lacquered finish: closed pore water-based semi-matt pigmented varnish, or closed pore polyurethane semi-matt pigmented varnish.
Wood finish: brushed with open pore semi-transparent semi-matt varnish.
Ladder and ladder support in metal, painted black with details in chromed brass.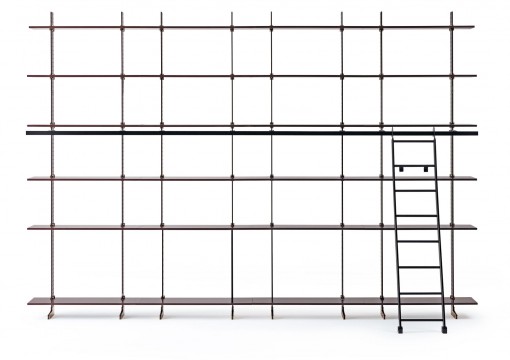 Designer
Ignazio Gardella
The descendent of a family of engineers and architects – a tradition that he respected, graduating in Civil Engineering from the Politecnico di Milano in 1928 –, Ignazio Mario Gardella, born in 1905 and deceased in 1999, played a central role in all the new developments of the 20th century, becoming one of the architects of the changes underway in the world of design and architecture. His numerous trips abroad, the connections he made during his university years and the work that came from his father's firm put him into contact with a series of prominent figures of the time who left a deep mark on his architectural approach, a precious legacy for the modern day that fused methodical precision and intellectual curiosity.
It was mainly the city of Milan that benefitted from his eclectic and disruptive personality, ever since Gardella became one of the promoters of the Piano A.R. ("Architects Reunited Plan") in 1943: this project for a new city plan constituted one of the greatest tests for Milanese architects due to its optimistic desire to rethink and rebuild the city as an expression of a new democratic society.
With this in mind, in 1945 he became one of the founders of the Movimento di Studi per l'Architettura (MSA – Movement for Architectural Studies), committing himself to tackling the main issues of the architectural and city planning debate regarding reconstruction.
His conception of architecture as "art", somewhere between a utilitarian construction and an artistic work, inevitably influenced the products that resulted from his collaboration with MisuraEmme, which began in the '70s.
Gardella redesigned historic pieces and created a new collection, marking an important moment in the company's history. The richness and variety of the products that ensued was also the subject of the "Ignazio Gardella Architetto" exhibition held in the spring of 1989 and organized by MisuraEmme and by the Museum of Contemporary Furnishing in Ravenna. The timeless emblem of this exchange of knowledge is the Elegie bookcase, which over the years has become an iconic piece of modern design.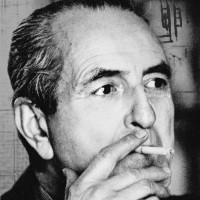 Upright Finishings
Metals

538 Varnished Black
Shelf supports / feet finishings
Metals

502 Golden nickel plated
Shelves finishings
Matt lacquered

01 Gesso

8B Caolino

9G Ostrica

6B Grigio Pietra

14 Nero

02 Talco

9F Sand

4G Argilla

8C Cappuccino

5B Grigio Lava

72 Sabbia

8A Beige

9T Toffee

93 Melange

13 Sepia

09 Wengè

81 Fuoco

94 Marsala

95 Ruggine

8S Giallo

9B Senape

98 Oliva

9H Petrolio

9E Deep Blu
Matt Veneers

50 Cenere

53 Elm grey

51 Black oak

66 Tobacco
Dimensions
Bookcase