Cannes
Ferruccio Laviani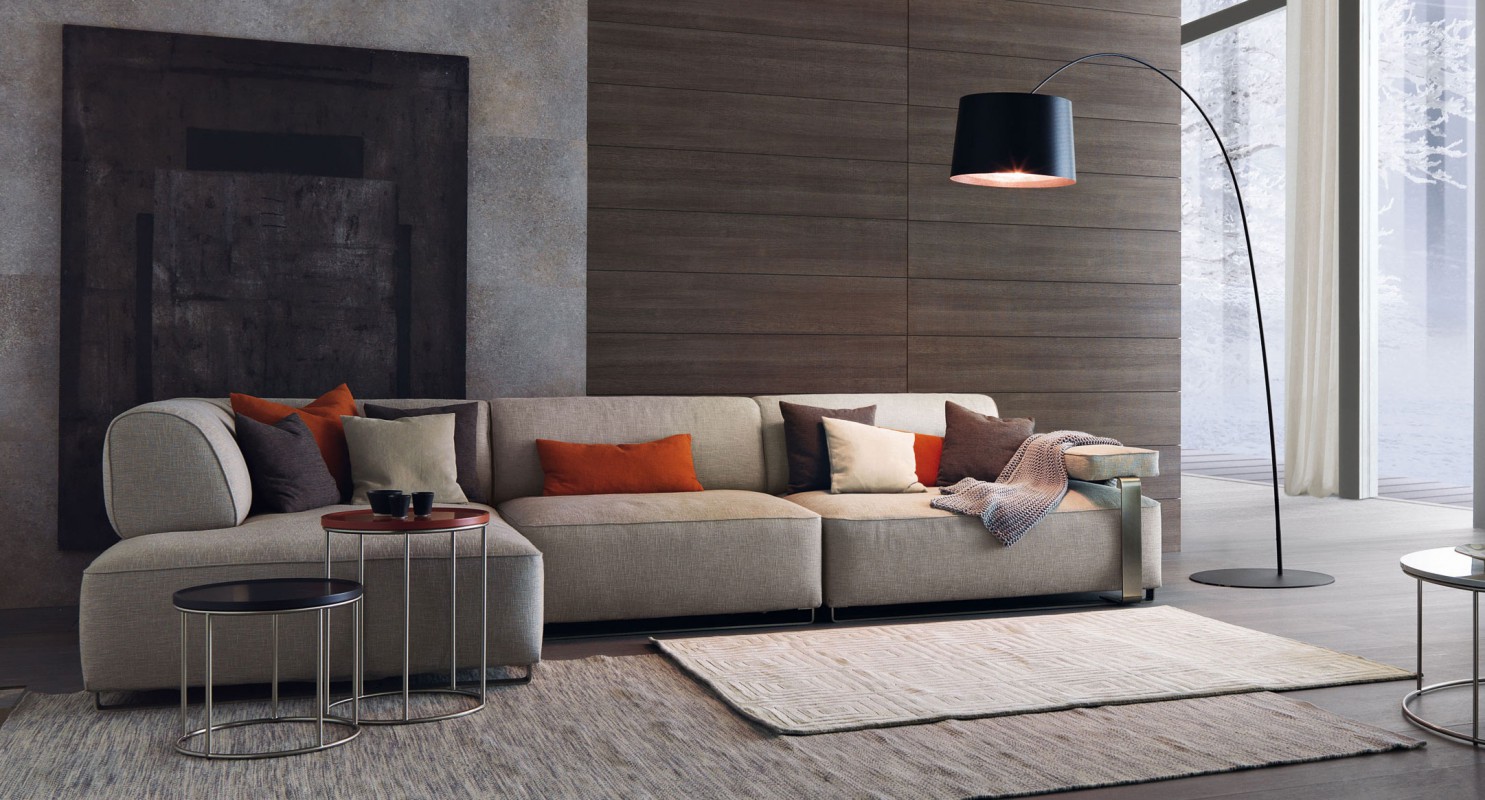 The Cannes sofa is more like a collection of different elements that can be connected up to create a whole. These freestanding parts can be mixed and matched to suit each owner's taste, ensuring no two solutions are ever the same. Style and practicality are the watchwords of this contemporary sofa.
Type
/ Sofas
Technical description
Cannes is a sofa system available in a fixed and modular version that offers many different possibilities of compositions. It is made up of 9 base units that can be combined to form linear and corner compositions.
Structure in wood with elastic belts, coated with polyurethane foam with different densities and feather inlay on backrest and seat cushions. All metal parts are in satined nickel. Available with or without lateral decorative brackets.
Coverings are available in fabric or leather. Fabric covers can be removed by expert personnel after having disassembled the backrest, leather upholstery is not removable.
Tray top matt lacquered, W 380 D 1070 mm (W 15"  D 42 1/8" inch). 
Designer
Ferruccio Laviani
Born in Cremona in 1960 Laviani attends the Istituto Professionale Internazionale per l'Artigianato Liutario e del Legno di Cremona, receiving his degree in 1978. He later attends the Faculty of Architecture, at the Politecnico di Milano where he graduates in 1986, while attending at the same time the Scuola Politecnica di Design in Milan from 1982 to 1984. In 1983 he starts working for Michele De Lucchi; he becomes a partner in 1986 and works there until 1991, when he decides to open his own studio in Milan. Laviani's work mainly focuses on product design, interior design, art direction and graphic. Since 1991, he is the Art Director for Kartell; same role he has played for other companies. He designs retail spaces and set-ups, offices and houses for private clients, as well as for furniture and fashion. In 2008 an exhibition was dedicated to the lamps he designed for Kartell. Bourgie and Take lamps for Kartell are part of the permanent Collection of IMA, Indianapolis Museum of Art (USA); also other products have been featured in museums and shows all over the world. In 2015, Laviani develops the new concept for Kartell Museum in Noviglio, updating the interior design he had conceived in 1999, when he received the award Premio Guggenheim Impresa & Cultura 2000, as the best museum of a company. Last year, he has started a collaboration with the Italian mosaic brand Bisazza. In 2016 Ferruccio has designed the pop-up store for the fashion designer Paula Cademartori and the set-up for the Haute Couture Women show for Dolce e Gabbana, at Laboratori Ansaldo, Teatro alla Scala, Milan.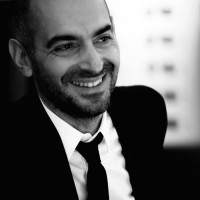 Cover Finishings
Indio

A31 Madreperla

A36 Quarzo

A35 Pietra

A32 Malachite

A30 Ematite

A33 Zaffiro

A34 Onice verde

A37 Basalto
Nodone

A41 Sabbia

A47 Argilla

A48 Corteccia

A44 Muschio
A40 Carbone

A46 Roccia

A43 Ghiaia

A42 Sasso
Jojo

B41 Cicogna

B46 Fungo

B48 Radice

B4A Ghianda

B49 Scoiattolo
B47 Marmotta

B44 Lichene

B43 Ghiro

B45 Tortora

B42 Piccione

B40 Corvo
629

B61 White

B66 Beige

B69 Light brown

B67 Taupè

B65 Brown

B68 Dark brown

B62 Light gray

B63 Blue

B60 Black

B64 Green
Barbat

B31 Cigno

B36 Tortora

B37 Beccaccino

B34 Airone

B32 Ghiro

B33 Piccione

B35 Riccio

B30 Corvo
Tulsa

C82 Orso polare

C83 Airone

C85 Lepre

C88 Alpaca

C86 Cervo

C81 Corvo

C87 Alligatore

C84 Squalo blu
M155

C91 Platino

C92 Argento

C90 Ferro

C93 Oro

C94 Bronzo
Funky

C70 White mix

C71 Rock mix

C7A Nuts mix

C78 Green mix

C76 Mustard mix

C77 Orange mix

C72 Brown mix

C79 Blue mix

C73 Iron mix

C74 Grey mix

C75 Black mix
Artide

C20 Ecrù
Brera

D31 Cigno

D36 Tortora

D37 Gufo

D34 Picchio verde

D32 Airone

D35 Piccione

D33 Rondine

D30 Corvo
Indianskop

D1B Sabbia

D1G Creta

D1F Betulla

D1C Sasso

D1D Roccia

D1A Carbone

D1E Lichene

D1H Terra
Tundra

D2B Cigno

D2F Tortora

D2G Fungo

D2H Cicogna

D2L Ghianda

D2J Cervo

D2E Lichene

D2C Ghiro

D2D Lupo

D2K Talpa

D2A Corvo
Flynn

D3B Rugiada

D3F Pietra

D3G Roccia

D3L Civetta

D3J Gufo

D3K Daino

D3E Muschio

D3H Guscio di lumaca

D3C Nebbia

D3D Pioggia

D3A Notte
Gong

E61 Cigno

E67 Creta

E6C Lumaca

E68 Scoiattolo

E62 Airone

E65 Tortora

E6A Blu fiume

E6B Talpa

E66 Riccio

E63 Passero

E69 Orso bruno

E60 Rondine

E64 Felce
Tadao

E81 White mix

E85 Sand mix

E83 Zaffiro mix

E86 Snow mix

E88 Bronze mix

E87 Cappuccino mix

E82 Stone mix

E80 Taupè mix

E89 Rust mix

E84 Green mix

E90 Sulfur mix
Yellowstone

E96 Rugiada

E99 Sabbia

E98 Terra

E95 Pietra

E97 Corteccia
Gemma Plus

D54 Cigno

D59 Fungo

D61 Castagna

D65 Lumaca

D60 Nocciola

D57 Sotto bosco

D55 Ghiro

D56 Gufo

D73 Rondine

D66 Volpe

D58 Riccio
Velluto Lario

F33 Pietra

F56 Sabbia

F57 Tortora

F51 Scoiattolo

F54 Volpe

F55 Cervo

F35 Rondine

F53 Corteccia
Velluto Regal

F58 Mirtillo

F5A Castagna

F59 Muschio
Luxus

E50 Bianco

F01 Ecrù

F02 Grigio perla

F05 Blu

F03 Lava

F04 Testa di moro
Gaucho

F28 Neve

F21 Nebbia

F29 Grandine

F20 Tempesta di sabbia

F25 Solstizio

F26 Tramonto

F24 Acque tropicali

F23 Nube

F27 Foresta

F22 Tornado
Orsetto

H1B Perla

H1G Conchiglia

H1H Alabastro

H1C Opale

H1F Ematite

H1A Onice nero

H1D Zaffiro

H1E Giada

H1J Agata

H1L Topazio

H1K Ambra
Smooth leathers

H38 Sand

H36 Camoscio

H3F Muschio

H71 Testa di Moro

H3E Grigio Caldo

H35 Grigio Chiaro

H08 Asfalto

H26 Antracite

H3B Cuoio

H31 Naturale

H3A Terracotta

H34 Fango

H32 Taupè

H73 Nero
Nubuck

HN3 Leone

HN2 Rinoceronte

HN1 Orso bruno
Nabuk

N08 Orso polare

N05 Rinoceronte

N14 Antilope

N11 Lupo

N12 Balena

N09 Squalo blu

N10 Tigre

N07 Leone

N04 Alligatore

N06 Volpe

N13 Orso bruno
Structure Finishings
Metals

524 Varnished Gun metal
Tray Finishings
Matt lacquered

01 Gesso

8B Caolino

9G Ostrica

6B Grigio Pietra

14 Nero

02 Talco

9F Sand

4G Argilla

8C Cappuccino

5B Grigio Lava

72 Sabbia

8A Beige

9T Toffee

93 Melange

13 Sepia

09 Wengè

81 Fuoco

94 Marsala

95 Ruggine

8S Giallo

9B Senape

98 Oliva

9H Petrolio

9E Deep Blu
Dimensions
Central and terminal element W. 980 mm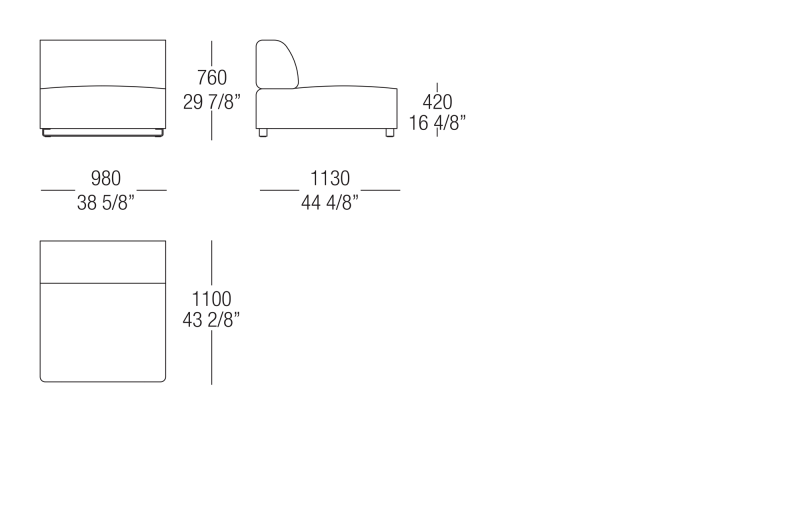 Central and terminal element with side metal bracket W. 1030 mm, SX-DX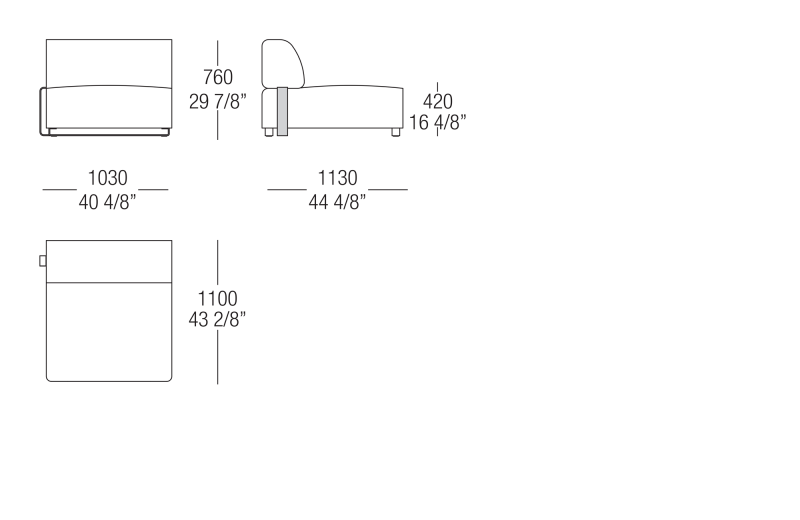 Central and terminal element without armrest W.1300 mm, SX-DX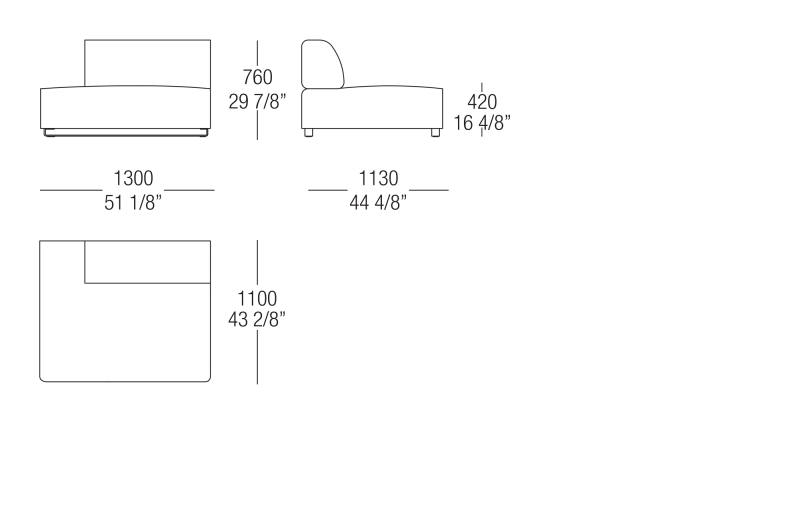 Central and terminal element with armrest W.1300 mm, SX-DX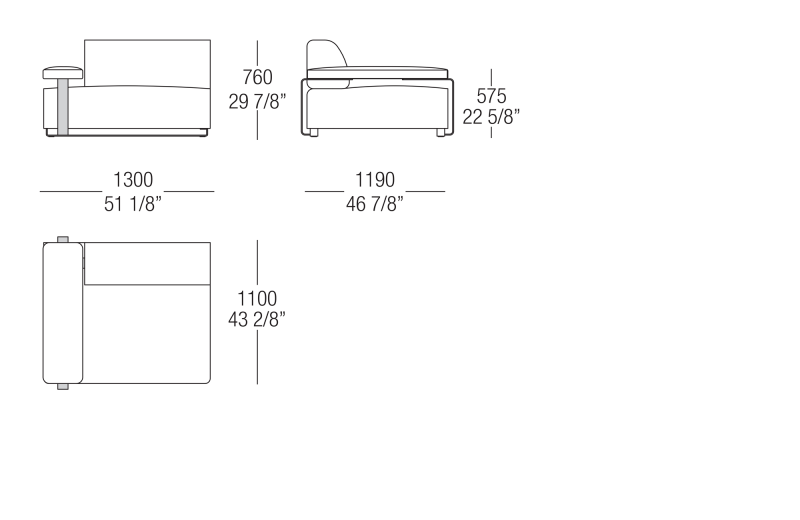 Central and terminal element with armrest and side bracket W.1350 mm, SX-DX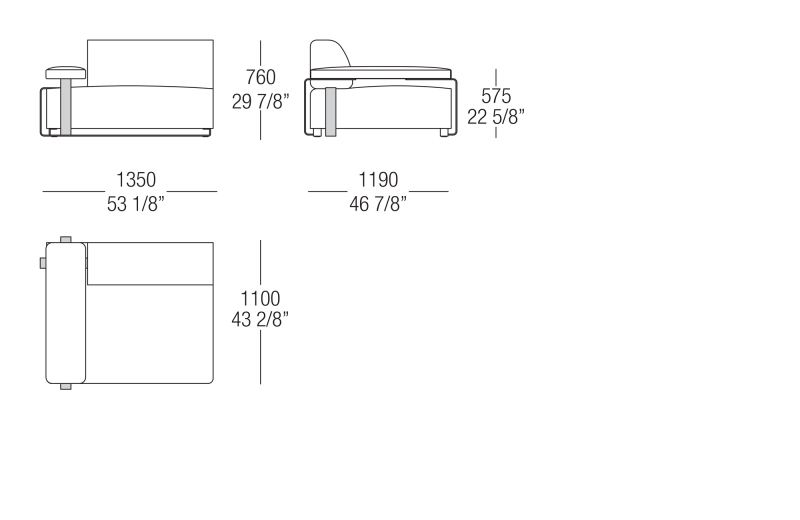 Chaise longue W. 1870 mm, SX-DX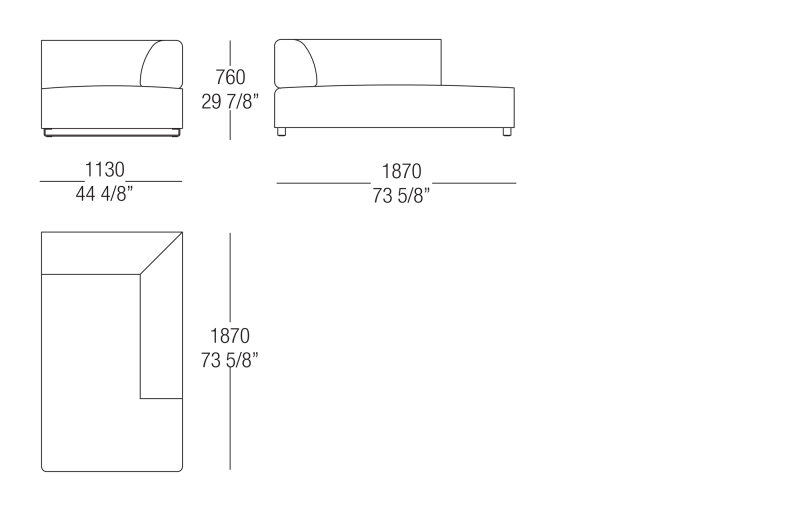 Squared pouf with small table L. 1100 mm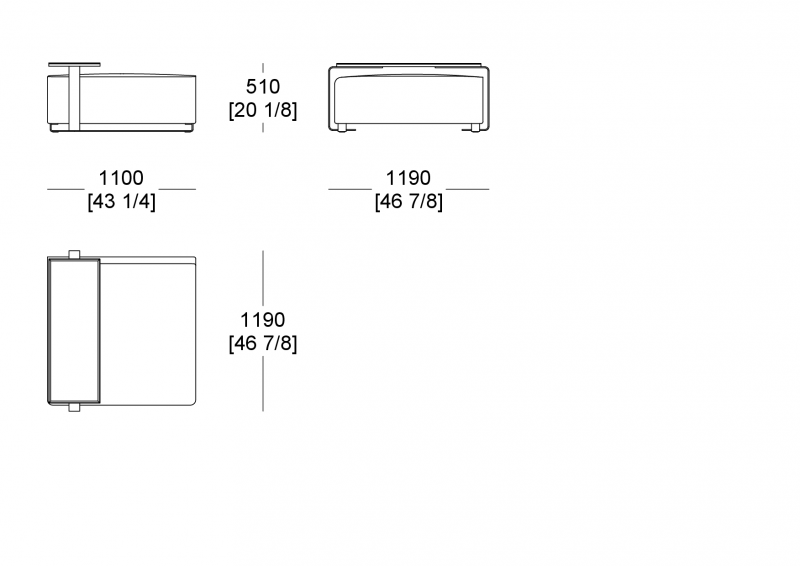 Square pouf W. 1100 mm, SX-DX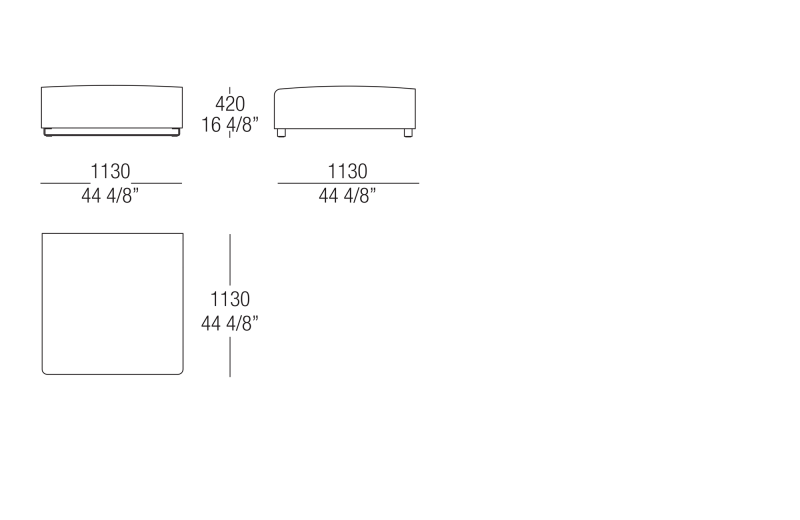 Rectangular pouf W. 1870 mm, SX-DX