AA1
Alvar Aalto

Historical product of 1932.
Alvar Aalto's sofa bed is a mostly unknown part in the biography of the finnish master. Towards the end of the 1920'ies Aalto adhered to the germanic influenced Functionalist Movement and in 1929 took part in the CIAM congress about the "Exhistenzminimum" at Francfort where he got in contact witch Gropius, Moholy-Nagy and Giedion. It was also Siegfried Giedion who called on him for a collection he realized for Wohnbedarf and then put in production a chair as well as the adjustable sofabed which, in fact, reflects perfectly the principles of economy, simplicity of use and "lightness" in the figurative sense recommanded at Francfort. The sofa, slightly modified on Giedion's advice, was presented at Stocarda in 1932 and on the occasion of the Universal Exposition at Bruxelles in 1935.
Type
/ Sofas
Technical description
Sofabed, numbered piece.
Structure in tubular chromed steel, armrests in solid wood black lacquer.
Inclination of seat and back are adjustable, up to 180° to become a bed.
Removable cover in fabric or leather.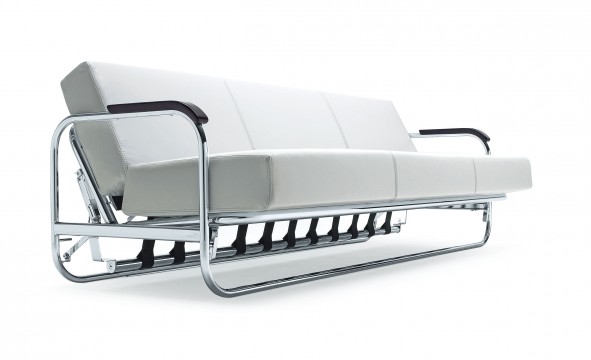 Designer
Alvar Aalto
From 1927 to 1935 Alvar Aalto worked on two buildings which were to become the masterpieces of his juvenile period and contribute to his fame on an international level: the Municipal Library of Viipuri and the Paimio Sanatorium. In these constructions of rationalistic imprint, Aalto succeeded in introducing the defining character of organic architecture as exemplified in the use of form and material which eventually led to a new understanding of architecture. Based on the experience with the furniture designed for these two buildings, Aalto together with both his wife Aino and Maire Gullichsen, founded the Artek trademark in 1935 that specialized in the production of warped wood furniture achieved through new techniques developed by Aalto. From this point on, his biography is rich with events and success, ranging from the design of a simple sauna stool in birch to urbanistic projects such as the Säynätsalo Island and the reconstruction plans for Rovaniemi. He was also responsible for numerous projects abroad, including the M.I.T. dormitory in Cambridge, MA (USA) and the Riola Church near Bologna, Italy. Outside his homeland, however, the organic approach to architecture was intended as a pure relationship between man-made projects and nature. Alvar Aalto died in 1976 at the age of 78.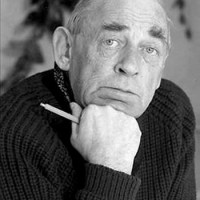 Cover Finishings
Indio

A31 Madreperla

A36 Quarzo

A35 Pietra

A32 Malachite

A30 Ematite

A33 Zaffiro

A34 Onice verde

A37 Basalto
Nodone

A41 Sabbia

A47 Argilla

A48 Corteccia

A44 Muschio
A40 Carbone

A46 Roccia

A43 Ghiaia

A42 Sasso
Jojo

B41 Cicogna

B46 Fungo

B48 Radice

B4A Ghianda

B49 Scoiattolo
B47 Marmotta

B44 Lichene

B43 Ghiro

B45 Tortora

B42 Piccione

B40 Corvo
629

B61 White

B66 Beige

B69 Light brown

B67 Taupè

B65 Brown

B68 Dark brown

B62 Light gray

B63 Blue

B60 Black

B64 Green
Barbat

B31 Cigno

B36 Tortora

B37 Beccaccino

B34 Airone

B32 Ghiro

B33 Piccione

B35 Riccio

B30 Corvo
Tulsa

C82 Orso polare

C83 Airone

C85 Lepre

C88 Alpaca

C86 Cervo

C81 Corvo

C87 Alligatore

C84 Squalo blu
M155

C91 Platino

C92 Argento

C90 Ferro

C93 Oro

C94 Bronzo
Funky

C70 White mix

C71 Rock mix

C7A Nuts mix

C78 Green mix

C76 Mustard mix

C77 Orange mix

C72 Brown mix

C79 Blue mix

C73 Iron mix

C74 Grey mix

C75 Black mix
Artide

C20 Ecrù
Brera

D31 Cigno

D36 Tortora

D37 Gufo

D34 Picchio verde

D32 Airone

D35 Piccione

D33 Rondine

D30 Corvo
Indianskop

D1B Sabbia

D1G Creta

D1F Betulla

D1C Sasso

D1D Roccia

D1A Carbone

D1E Lichene

D1H Terra
Tundra

D2B Cigno

D2F Tortora

D2G Fungo

D2H Cicogna

D2L Ghianda

D2J Cervo

D2E Lichene

D2C Ghiro

D2D Lupo

D2K Talpa

D2A Corvo
Flynn

D3B Rugiada

D3F Pietra

D3G Roccia

D3L Civetta

D3J Gufo

D3K Daino

D3E Muschio

D3H Guscio di lumaca

D3C Nebbia

D3D Pioggia

D3A Notte
Gong

E61 Cigno

E67 Creta

E6C Lumaca

E68 Scoiattolo

E62 Airone

E65 Tortora

E6A Blu fiume

E6B Talpa

E66 Riccio

E63 Passero

E69 Orso bruno

E60 Rondine

E64 Felce
Tadao

E81 White mix

E85 Sand mix

E83 Zaffiro mix

E86 Snow mix

E88 Bronze mix

E87 Cappuccino mix

E82 Stone mix

E80 Taupè mix

E89 Rust mix

E84 Green mix

E90 Sulfur mix
Yellowstone

E96 Rugiada

E99 Sabbia

E98 Terra

E95 Pietra

E97 Corteccia
Gemma Plus

D54 Cigno

D59 Fungo

D61 Castagna

D65 Lumaca

D60 Nocciola

D57 Sotto bosco

D55 Ghiro

D56 Gufo

D73 Rondine

D66 Volpe

D58 Riccio
Velluto Lario

F33 Pietra

F56 Sabbia

F57 Tortora

F51 Scoiattolo

F54 Volpe

F55 Cervo

F35 Rondine

F53 Corteccia
Velluto Regal

F58 Mirtillo

F5A Castagna

F59 Muschio
Luxus

E50 Bianco

F01 Ecrù

F02 Grigio perla

F05 Blu

F03 Lava

F04 Testa di moro
Gaucho

F28 Neve

F21 Nebbia

F29 Grandine

F20 Tempesta di sabbia

F25 Solstizio

F26 Tramonto

F24 Acque tropicali

F23 Nube

F27 Foresta

F22 Tornado
Orsetto

H1B Perla

H1G Conchiglia

H1H Alabastro

H1C Opale

H1F Ematite

H1A Onice nero

H1D Zaffiro

H1E Giada

H1J Agata

H1L Topazio

H1K Ambra
Smooth leathers

H38 Sabbia

H36 Camoscio

H3F Muschio

H71 Testa di Moro

H3E Grigio Caldo

H35 Grigio Chiaro

H08 Asfalto

H26 Antracite

H3B Cuoio

H31 Naturale

H3A Terracotta

H34 Fango

H32 Taupè

H73 Nero
Nubuck

HN3 Leone

HN2 Rinoceronte

HN1 Orso bruno
Structure finishings
Metals

501 Natural chromium
Dimensions
Sofa bed